You are here
Ask Your Rep. To Co-Sponsor The Berta Cáceres Human Rights in Honduras Act!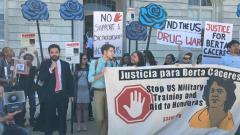 On July 14, 2016, bill HR 5474, the Berta Cáceres Human Rights in Honduras Act, was introduced to the US House of Representatives by Rep. Hank Johnson (D-GA), Conyers (MI), Ellison (MN), Kaptur (OH), Serrano (NY), and Schakowsky (IL). The full bill can be read here
The bill states that "The Honduran police are widely established to be deeply corrupt and to commit human rights abuses, including torture, rape, illegal detention, and murder, with impunity" and that the military has committed violations of human rights. Therefore, the bill asks that the United States suspend all "...security assistance to Honduran military and police until such time as human rights violations by Honduran state security forces cease and their perpetrators are brought to justice."  
What YOU can do to support The BERTA CÁCERES HUMAN RIGHTS IN HONDURAS ACT (H.R. 5474)
Write a letter: Find your Rep's address and make a personal letter or postcard. Research shows that it only takes 7 letters from constituents for a representative's office to start following an issue
Call: Give your Rep a phone call and ask them to co-sponsor the bill, if they already have signed on thank them for standing for human rights in Honduras.
Sample Calling Script: "My name is _____. I am a constituent from (your town/city) in (your state). I am calling to ask Rep. _____ to co-sponsor H.R. 5474, The Berta Cáceres Human Rights in Honduras Act, calling for a suspension of U.S. security aid to Honduras until human rights violations committed by the Honduran security forces cease. Has Rep. _______ seen this bill? Can I count on him/her to sign on? Please call me this week at (your phone number) to let me know if you have seen the letter, and if Rep. _____ will sign it."