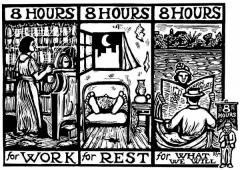 from Fair World Project:
Safe workplaces, dignified jobs, fair wages, good health. Those are things we can probably all agree we want. Unfortunately, the COVID-19 pandemic has revealed how far away that vision seems for too many of us.
This month, workers at some of the biggest companies are walking off the job, protesting lack of protective equipment, sick leave, and other safeguards. Meanwhile, as 30 million people have lost their jobs and working people struggle to make ends meet, the billionaires at the top are making a killing. The pandemic is laying bare how the concentration of wealth and power is leaving too many behind.
Our latest blog post looks in depth at Amazon, one of the wealthiest and most powerful of those companies—a company that has gotten just so big that some are likening it to a public utility for how it has infiltrated every aspect of our lives. Yet there is a growing swell of worker power building too—starting this May Day, and beyond.
A few solidarity actions you can take with workers everywhere this month:
Send a message to your state's attorney general, asking them to follow the lead of New York, where the Attorney General has deemed Amazon's protections for workers "inadequate" and in potential violation of federal health and safety laws.
Honor picket lines of striking workers: workers at Amazon, Instacart, Target, Walmart, Whole Foods, and a growing list of others all have been taking action since May 1. Respect their calls and don't shop at these places for the day.
Support melon picking workers as they call for protective equipment – and for multinational Fyffes to join them at the negotiating table.
As we look back on the origins of May Day, it's useful to remember that the movements that first named May Day as International Workers' Day were organizing for an 8-hour work day, among other protections that many of us now take for granted. When we come together, we can make change.
In Solidarity,
The Fair World Project team
P.S. Please send a note to your State's Attorney General asking them to investigate Amazon's warehouses in your area.