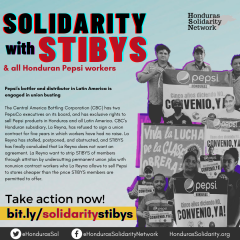 Tuesday, January 24, 2023
*español abajo
Solidarity with STIBYS & all Honduran Pepsi Workers!
The Honduran Bottlers Union – STIBYS – has informed the Honduras Solidarity Network that Pepsi's bottler and distributor in Latin America is engaged in union busting. The Central America Bottling Corporation (CBC) is a company that has two PepsiCo executives on its board, and has exclusive rights to sell Pepsi products in Honduras and all Latin America. CBC's Honduran subsidiary, La Reyna, has refused to sign a union contract for five years in which workers have had no raise.  La Reyna has stalled, postponed, and obstructed, and STIBYS has finally concluded that La Reyna does not want an agreement. They want to strip STIBYS of members through attrition by undercutting permanent union jobs with nonunion contract workers who La Reyna allows to sell Pepsi to stores cheaper than the price STIBYS members are permitted to offer.
The situation has become so concerning that the Latin America regional branch of the International Union of Food Workers has organized a campaign in support of STIBYS targeting CBC and PepsiCo.
Your support can stop La Reyna's outsourcing and get them to negotiate a fair and just union contract with STIBYS!
We note that as La Reyna/CBC destroys good union jobs, PepsiCo has joined Vice President Harris, on her mission to eradicate the roots of migration in Central America by investing $190 million. Certainly, union busting will not help eradicate the crises that Hondurans face in sustaining their families and thus the need to migrate.
Take action today!
content of letter:
Demand an end to CBC's attacks against Honduran workers and their unions
The Honduran Bottlers Union – STIBYS – has informed us that the Central America Bottling Corporation (CBC), a company licensed by you to distribute Pepsi products in all of Latin America, is a union buster.
CBC's subsidiary, La Reyna in Honduras has been replacing union employees with contractors who are permitted to sell product at cheaper prices than are union workers. As a result, union members can't make a living. Furthermore, for several years now, La Reyna won't sign a fair contract. Their actions clearly show their intention to destroy the union and the unionized workforce.
We know that two Pepsi managers are on the CBC board: Erik Scheel and Maria Laura Zablacks. Thus, we know that you can intervene with CBC and force them to stop their union busting and to negotiate a fair contract with STIBYS.
Please let me know that you have done so.
¡Solidaridad con STIBYS y todos los trabajadores hondureños de Pepsi!
El Sindicato de Embotelladores de Honduras - STIBYS - ha informado a la Red de Solidaridad con Honduras que la embotelladora y distribuidora de Pepsi en América Latina está involucrada en la represión sindical. La Central America Bottling Corporation (CBC) es una empresa que cuenta con dos ejecutivos de PepsiCo en su junta directiva, y tiene derechos exclusivos para vender productos Pepsi en Honduras y toda América Latina. La filial hondureña de CBC, La Reyna, se ha negado a firmar un contrato sindical durante cinco años en los que los trabajadores no han tenido ningún aumento.  La Reyna ha pospuesto y obstruido cualquier avance, y STIBYS ha llegado finalmente a la conclusión de que La Reyna no quiere un acuerdo. Hoy en día, La Reyna quiere despojar a STIBYS de sus miembros mediante el desgaste, reduciendo las posiciones para trabajadores sindicalizados y sustituyéndolos con trabajadores contratados no sindicados a los que La Reyna permite vender productos Pepsi a precios más bajos en comparación a los que los miembros de STIBYS están permitidos a ofrecer.
La situación se ha vuelto tan preocupante que la sección regional de América Latina del Sindicato Internacional de Trabajadores de la Alimentación ha organizado una campaña de apoyo a STIBYS dirigida a CBC y PepsiCo.
Tu apoyo puede detener la subcontratación promovida por La Reyna y conseguir que negocien un contrato sindical justo y equitativo con STIBYS.
Observamos que mientras La Reyna/CBC destruye buenos empleos sindicales, PepsiCo se ha unido a la Vicepresidenta Harris, en su misión de erradicar las raíces de la migración en Centroamérica invirtiendo 190 millones de dólares. Ciertamente, la destrucción de sindicatos no ayudará a erradicar las crisis que enfrentan los hondureños para sostener a sus familias y por lo tanto la necesidad de migrar.
¡Actúa hoy!
Contenido de la carta
¡Demande un alto a los ataques de CBC en contra de los trabajadores hondureños y sus sindicatos!
El Sindicato de Embotelladores de Honduras - STIBYS - nos ha informado que la Central America Bottling Corporation (CBC), empresa licenciada por usted para distribuir los productos Pepsi en toda América Latina, ataca y rompe sindicatos.
La filial de CBC La Reyna, en Honduras, ha estado sustituyendo a los empleados sindicados por contratistas a los que se les permite vender el producto a precios más bajos. Como resultado, los miembros del sindicato no pueden competir ni ganarse la vida. Además, desde hace varios años, La Reyna no firma un contrato justo. Sus acciones muestran claramente su intención de destruir al sindicato y a los trabajadores afiliados.
Sabemos que dos directivos de Pepsi forman parte de la junta directiva de CBC: Erik Scheel y Maria Laura Zablacks. Por lo tanto, sabemos que usted puede intervenir ante CBC y obligarles a poner fin a su represión sindical y a negociar un contrato justo con STIBYS.
Por favor, hágame saber qué ha hecho al respecto.