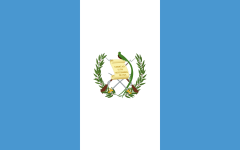 source: AFP. July 24, 2023
Guatemalan protesters took to the streets again on Monday demanding that the attorney general and a handful of prosecutors step down over their alleged efforts to impede the upcoming presidential runoff election.
Marchers called for the ouster of Attorney General Maria Consuelo Porras, whose office is seeking to disqualify the Semilla (Seed) Party of Bernardo Arevalo, a social democrat who surged into one of two August 20 runoff spots, shocking many in the nation.
Banners raised at a boisterous demonstration in the center of the capital carried slogans including "We want free elections" and "I refuse to live in a dictatorship."
"The people of Guatemala are vigilant and we are going to demand compliance with the laws, the constitution and the result at the polls," protester Allan Ramirez told reporters.
Judge Fredy Orellana and prosecutor Rafael Curruchiche have also drawn the ire of protesters since the June 25 first-round vote.
On Curruchiche's orders, Orellana directed the Supreme Electoral Tribunal (TSE) to disqualify the Semilla Party, alleging anomalies in how it was created in 2017. The Tribunal did not comply with the order.
In response, judicial agents have twice raided the TSE, and sought to arrest a functionary there. On Friday they searched the headquarters of Semilla in Guatemala City.
Outside the capital, there were protests in the western part of the country, including the city of Quetzaltenango and in Mayan municipalities in the departments of Quiche and Totonicapan, according to local media.
The US State Department last year designated Porras as corrupt and undemocratic, and said she was undermining anti-corruption probes.
Brian Nichols, the head of US diplomacy for Latin America, said Monday it was "vital" the run-off be held "without interference or harassment."
Arevalo is slated to face Sandra Torres, a former first lady who also is center left. Whoever wins will put an end to 12 years of rightist rule in the Central American nation.
The turbulent legal actions by authorities around Arevalo's campaign in recent weeks are widely interpreted within Guatemala and abroad as an effort to scuttle Arevalo's candidacy.