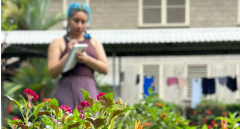 source: SOA Watch
As a cherished supporter of SOA Watch, you know our commitment to denouncing the oppressive policies and practices that perpetuate violence, forced migration, and militarization in the Americas. You also know that for over 30 years, SOA Watch has united artists, musicians, and movement makers to breathe life into our mobilizations at Fort Benning—recently renamed Fort Moore—and, as of 2016, at the U.S.-Mexico border. Artists have not only been a source of remembrance, joy and inspiration but also the resounding voices and colors of resistance in the face of adversity.
In our current efforts, we are dedicated to welcoming new artists into the ever-growing SOA Watch community, with a focus on embracing artists from migrant and borderland communities, and artists of the Latin American diaspora. Last year, we were honored to stand in solidarity with the Border Patrol Victims Network, side by side with artists from Ambos Nogales and California. Witnessing the fusion of their incredible talents with the unwavering dedication of SOAW activists reinforced our belief in the profound impact of art as a force for community building and transformation.
This summer, members of our Artists Collective embarked on a transformative journey to Honduras as part of the Witness for Peace Solidarity Collective Cuerpo Territorio delegation. The artists immersed themselves as witnesses to the poignant testimonies of struggle and triumph of resilient organized communities. As Honduran social activists and land defenders face increasing military repression and surveillance, these artists are using their craft to amplify the voices and uplift the struggles of Hondurans striving to protect and defend their ancestral lands, natural resources, and autonomy.
One of those resilient communities is Red Comal, an extraordinary hub for solidarity economies and sustainable regenerative agriculture. For over 20 years, Red Comal has worked to preserve indigenous seeds and farming practices, and to sustain small farming communities. Members of the SOAW Artists Collective from California and Chicago, in collaboration with passionate youth from participating farming communities in Honduras, have undertaken a series of projects to create captivating educational murals. With your support, the SOAW Artists Collective will begin painting murals with participating communities in Honduras this October - creating meaningful art and exchanges, amplifying resistance and solidarity, and inspiring joy amid the struggles in our collective movement for justice.

By channeling the stories of the Red Comal youth through creativity, artists are sending ripples of hope, resistance, and solidarity that transcend language, borders, and walls. This artwork will celebrate the communities' histories, cultures, and unwavering struggle to safeguard their lands from aggressive and expansive agribusiness and monoculture interests, including the U.S.-based company Monsanto. 
"Visual art allows people of all ages to get in touch with their creative side and also makes it easier to start conversations, which can lead to forming beautiful friendships. In fact, we will be returning this October to create multiple murals at Red Comal with youth from throughout Honduras. I believe this is the most beautiful exchange and way of collaborating, being able to paint alongside communities / folx that can and should tell their own stories of resistance... Art is reflective of the current moment we're living in and it can serve as a medium of documentation and create space for dialogue between communities.
Being a part of Cuerpo Territorio Delegation gave me an opportunity to return to and connect with Central America again since 2011. I had visited my parent's birthplaces, Guatemala and El Salvador but I have a unique connection with Honduras, my maternal great grandmother was from there. Although I do not know much about her, I thought it would be a beautiful way to begin this journey of learning more about her and Honduras." - Kiara, SOAW Artists Collective
SOA Watch is accepting donations to fund the mural project. Click here to empower creative community projects in Honduras, foster exchanges between US and Honduran organizers, propel the ongoing mission of denouncing militarization and violence in the Americas.