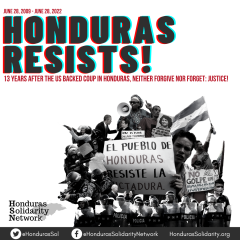 Tuesday, February 28, 2023
U.S. INTERVENTION MONITOR: One Year of Xiomara Castro, One More Year of U.S. Intervention in Honduras
** Español Abajo **
 
January 2023 marked the one-year anniversary of President Xiomara Castro's administration in Honduras. Throughout their first year in office, the Castro administration not only had to reckon with a country ravished by a 12-year narco-dictatorship, but also several instances of U.S. interference aimed at weakening the government's agenda and undermining Castro's progressive platform.
On October 31, 2022, Honduran Foreign Affairs Minister Enrique Reina requested a formal meeting with U.S. Ambassador to Honduras, Laura Dogu to present a formal protest against the Ambassador's public statements disapproving of new government reforms. Taking aim at Castro's Energy Reform Law and Temporary Labor Law, and the repeal of the legislation that gave birth to the widely unpopular Zones of Economic Development and Employment (ZEDEs), the U.S. Ambassador claimed that the reforms would hinder the "chances of success" of Vice President Kamala Harris' billion dollar 'Call to Action' launched to allegedly address the root causes of migration. This claim could be not be farther from the truth. While trying to address the concerns of Honduras' majority poor population, Castro's administration identified that high energy prices, poor labor conditions, and land dispossession and social conflict drive migration to the U.S and present serious obstacles for the country's growth. Instead of applauding Castro's attempts to address the causes of migration, the U.S. in multiple instances interfered in Honduras' internal affairs in order to promote the economic and geopolitical interests of the U.S. government and North American corporations. By speaking out against Castro's reforms, the U.S. contradicts its own statements that it is interested in addressing what drives Hondurans to leave their own country for the U.S.-Mexico border.
It would be impossible to overstate the damage done to Honduran democracy and economic development by U.S. domination historically and in the recent past.  Public comments, behind-the-scenes meetings, and political coercion are some of the many ways that U.S. interventionism seeks to maintain U.S. power and its economic interests in the region. There's a pattern to these actions which repeats again and again in both Honduras and the rest of Latin America.
The Honduras Solidarity Network (HSN) and Honduras Now have both witnessed and denounced U.S. interference in Honduras during Castro's first year. In response, we have decided to document U.S. interference in Honduras throughout 2022. This is the first annual report, a working document, that will be updated annually over the next four years of President Castro's Presidency to outline U.S. intervention and the responses to such from inside Honduras. 
This report will first outline the event in late 2022 that became the 'final straw' that led Foreign Affairs Minister Reina García to formally complain to U.S. Ambassador Laura Dogu about the U.S.'s interventions and statements. Then, the report details three major interventions related to policy reforms or changes proposed and implemented by President Castro: the Energy Law, the Temporary Labor Law, and the ZEDE laws. Lastly, it outlines a few 'odds and ends' of U.S. interventionism during key legislative and political moments in 2022. 
Given that this report seeks to outline, overview, and display the U.S. intervention tactics in Honduras, we refrain from making recommendations. However, the Honduras Solidarity Network and Honduras Now insist that the U.S. must stop intervening to promote its own economic and corporate agenda. In the past and particularly since the U.S.-backed coup d'état in 2009, this has only created political turmoil, poverty, inequality, and further driven emigration from Honduras.
Un Año de Xiomara Castro, Un Año Más de la Intervención Estadounidense en Honduras
En enero de 2023 se cumplió un año de la administración de la presidenta Xiomara Castro en Honduras. A lo largo de su primer año en el cargo, la administración Castro no sólo tuvo que hacerle frente a un país azotado por una narcodictadura de 12 años, sino también a diversos casos de injerencia estadounidense destinados a debilitar la agenda del gobierno y socavar la plataforma progresista de Castro.
El 31 de octubre de 2022, el Ministro de Relaciones Exteriores de Honduras, Enrique Reina, solicitó una reunión formal con la Embajadora de Estados Unidos en Honduras, Laura Dogu, para presentar una protesta formal contra las declaraciones públicas de la Embajadora desaprobando las nuevas reformas gubernamentales. Apuntando a la Ley de Reforma Energética y a la Ley de Empleo por Hora de Castro, así como a la derogación de la legislación que dio origen a las ampliamente impopulares Zonas de Empleo y Desarrollo Económico (ZEDEs), la embajadora estadounidense afirmó que las reformas obstaculizarían las "posibilidades de éxito" del multimillonario "Llamado a la Acción" de la Vicepresidenta Kamala Harris, lanzado para presuntamente abordar las causas profundas de la migración. Esta afirmación no podría estar más lejos de la realidad. Al tratar de abordar las preocupaciones de la población mayoritariamente pobre de Honduras, el gobierno de Castro identificó que los altos precios de la energía, las malas condiciones laborales y el despojo de tierras y los conflictos sociales impulsan la migración a EE.UU. y presentan serios obstáculos para el crecimiento del país. En lugar de aplaudir los intentos de Castro de abordar las causas de la migración, Estados Unidos interfirió en múltiples ocasiones contra la soberanía hondureña para promover los intereses económicos y geopolíticos del gobierno estadounidense y de las corporaciones norteamericanas. Al pronunciarse en contra de las reformas de Castro, Estados Unidos contradice sus propias declaraciones de que está interesado en abordar lo que lleva a los hondureños a abandonar su propio país para dirigirse a la frontera entre Estados Unidos y México.
Sería imposible exagerar el daño causado a la democracia y al desarrollo económico hondureños por la histórica dominación estadounidense del pasado y la más reciente.  Los comentarios públicos, las reuniones tras bastidores y la coerción política son algunas de las muchas formas en que el intervencionismo estadounidense trata de mantener el poder de Estados Unidos y sus intereses económicos en la región. Hay un patrón en estas acciones que se repite una y otra vez tanto en Honduras como en el resto de América Latina.
La Red de Solidaridad con Honduras y Honduras Now han sido testigos y han denunciado la injerencia de Estados Unidos en Honduras durante el primer año de la Presidenta Castro. Ahora hemos decidido documentar la injerencia estadounidense en Honduras a lo largo del 2022. Este es el primer informe anual, un documento de trabajo, que se actualizará anualmente durante los próximos cuatro años de la administración de Castro para esbozar la intervención estadounidense y las respuestas a la misma desde Honduras.
Este informe esboza en primer lugar el acontecimiento de finales de 2022 que se convirtió en la "gota que colmó el vaso" que llevó al Ministro de Asuntos Exteriores Reina García a quejarse formalmente ante la Embajadora de EE.UU. Laura Dogu por las intervenciones y declaraciones de EE.UU.. A continuación, el informe detalla tres grandes intervenciones relacionadas con reformas o cambios políticos propuestos e implementados por la presidenta Castro: la Ley Energética, la Ley de Empleo por Horay la Ley ZEDEs. Por último, esboza algunas "peculiaridades" del intervencionismo estadounidense durante momentos legislativos y políticos claves en el año 2022. 
Dado que este informe pretende esbozar, resumir y mostrar las tácticas de intervención de Estados Unidos en Honduras, nos abstenemos de hacer recomendaciones. Sin embargo, la Red de Solidaridad con Honduras y Honduras Now insisten en que Estados Unidos debe dejar de intervenir para promover su propia agenda económica y corporativa. En el pasado, y en particular desde el golpe de Estado respaldado por Estados Unidos en 2009, esto sólo ha creado agitación política, pobreza, desigualdad y ha impulsado aún más la emigración desde Honduras.

Here is a link to the complete report U.S. INTERVENTION MONITOR: One Year of Xiomara Castro, One More Year of U.S. Intervention in Honduras. PDF in English and Español