Migrant Justice Newsletter And Urgent Actions February 2022
Hola and welcome to IRTF's February 2022 newsletter on Migrant Justice and the current situation at the U.S-Mexico border! 
Every day there are thousands of people apprehended at the US southern border. Most of them are caught by either  Immigration and Customs Enforcement (ICE) or Customs and Border Protection (CBP) and sent back or put in detention. It is hard to say which of these options is more dehumanizing: staying in an overcrowded, badly maintained detention center in the midst of a global health crisis for an infinite period of time, or being sent to Mexico–a country you may never have stepped foot in before–to await your immigration court proceedings for an unspecified period of time. And the Biden Administration? They have failed to keep their promises of President Biden's first 100 days in office and have mostly been implementing measures so far that make conditions for migrants and asylum seekers even worse. 
In this newsletter, please read about
- Immigration court in Cleveland, OH: deportation proceedings doubled 
- Why we need to cut funding for ICE and CBP
- How Title 42 is removing more people from the US than deportations
- Migrant Protection Protocols: Remain in Mexico goes to the Supreme Court 
- Take Action: Join us in Cleveland on Thursday, March 3, for our Communities Not Cages event in fron the immigration court. 

 
IMMIGRATION COURT: 

AN UPDATE ON THE NUMBER OF IMMIGRATION PROCEEDINGS FILED AT THE CLEVELAND IMMIGRATION COURT (EOIR)
The immigration court in Cleveland (actually called the Executive Office for Immigration Review, or EOIR) is the only immigration court in the whole state of Ohio. In Fiscal Year 2021 (July 2020 through June 2021), the US government filed  2,907 deportation cases in Cleveland. At that point, Ohio ranked 23rd in terms of most filed deportation proceedings.  In the following six months,  3,911 deportation cases were filed.  When you compare 2,907 over a 12-month period to 3,911 in a 6-month period, the US is doubling the rate at which it files deportation cases in Cleveland.  Ohio quickly moved up in the ranking of the most filed deportations proceedings nationwide: from 23rd to 18th place in the national statistics. The nationalities most represented in those numbers of people facing deportation proceedings are folks from Honduras, Venezuela, Guatemala, Nicaragua and Brazil.
This isn't about court. It's about enforcement . The number of deportation proceedings filed can be used to reflect the activity of federal immigration law enforcement. In other words, an increase in the number of deportation proceedings filed by ICE suggests that the government is increasing enforcement measures against undocumented residents. 
Another interesting development that we can see by looking at the change in the number of immigration cases filed is that Ohio's case numbers went up, while those of states like Texas and Florida (as well as the overall number of filed deportation proceedings in the United States) decreased significantly. For states on the southern border, Title 42 is likely the explanation. Under Title 42, migrants are not caught and placed into deportation proceedings. They are instead "expelled" immediately back to southern Mexico (at the Guatemala border) or to their country of origin.  
We noted above that 3,911 new deportation cases were filed in Ohio over the last six months. But what deportations? Over the past 6 months,  649 deportations were ordered from Ohio:  242 of the deported migrants were from Guatemala, 132 from Honduras. Ohio now ranks 8th in the US for deportation orders issued. Texas, California, and New York rank in the top 3. 
Source: TRAC at Syracuse University (Transactional Records Access Clearinghouse)
 
ICE ENFORCEMENT: WHY DO WE NEED TO STOP FUNDING FOR IMMIGRATION AND CUSTOMS ENFORCEMENT (ICE)
There are so many things wrong with Immigration and Customs Enforcement (ICE) and Customs and Border Protection (CBP), it is hard to know where to start. During the COVID-19 pandemic, many of those issues have been highlighted further, while ICE and CBP have been receiving an increasing amount of funding by the US government. These immigration enforcement agencies received $25 billion in Fiscal Year 2021,  with about ⅓ going to ICE and the rest to CBP. Since 2016, the size of ICE's budget has grown by about 40%, that of CBP has increased by 30%, and there are no signs of the Biden administration making efforts to decrease funding. What is so concerning about the increasing budget of those agencies is that the money can directly be translated into a rising number of migrants in detention, the increasing militarization of the southern US border and the targeting of immigrant communities.
What ICE is not using their budget for is improving conditions for immigrant detainees in ICE detention centers. Especially during the last few years, concerns have been raised about the catastrophic, in many ways dehumanizing, conditions in those prisons. People in detention have to spend their time in small cells or overcrowded rooms, with little to no medical support and no way to practice social distancing or the necessary hygienic measures to prevent COVID-19 outbreaks. While ICE is not providing COVID tests for the vast majority of the people held in detention, those who have been screened tested positive for the virus in 60% of the cases.  There have been numerous records of deaths and serious health complaints in ICE detention centers, and no one at the Immigration and Customs Enforcement agency seems to care about it.
But not only have the conditions in the detention centers in the midst of a global health pandemic raised concerns about the ever-increasing funding for ICE and CBP, ICE has also been spending its financial resources surveillance systems and range of digital tools with the help of big tech companies such as Palantir, Amazon Web Service, Microsoft, and many others, to simplify policing and military operations, expanding the detention and deportation databases and violating the privacy of many (immigrant) communities near the border. All those processes make it easier for ICE to track immigrants and border crossings as well as the people already being held in detention and to make the border even less traversable, essentially building their way up to a digital border wall.
All those reasons and many more are why there have been calls and actions to defund ICE and CBP or at least cut their budget instead of increasing it every year. It's so important that we support that cause and put an end to those dehumanizing measures and conditions that migrants in and on their way to detention centers have to endure.
Sources: No Tech for ICE, Defund Hate, American Immigration Council
EXPELLING MIGRANTS IN THE NAME OF HEALTH MEASURES: WHAT IS TITLE 42 AND HOW IS IT IMPACTING THE LIVES OF THOSE SEEKING REFUGE IN THE US?
On March 20, 2020, the Department of Health and Human Services (HHS) issued an emergency regulation, called Title 42, which permits the Centers for Disease Control (CDC) to prohibit individuals entry into the United States when there is "serious danger" of the introduction of a disease into the United States.  The rule allows any customs officers—which includes CBP officers and Border Patrol agents—to implement any such order issued by the CDC. In late March 2020, the Border Patrol began sending most Mexican, Guatemalan, Honduran, and Salvadoran families and single adults back into Mexico under Title 42.
How does this work?  People expelled by the US are usually driven by bus to the nearest port of entry and told to walk back across the border to Mexico, often without their luggage and other belongings. Their right to seek asylum is ignored. Those who are deemed by the US as "subject to Title 42" are not given any opportunity to contest their expulsion on the grounds that they would face persecution in the country to which they will be expelled. Those who aren't immediately sent across the border to Mexico (see the list of nationalities listed above)  are held in detention and later flown back to their home countries without any opportunity to seek asylum
But what about the Haitians? Since March 2021, thousands of Haitian families seeking asylum have been subjected to this process and summarily returned on "expulsion flights"  to Haiti. Flights to Haiti were briefly suspended after outcry following President Biden's inauguration.  But in September 2021, over the objections of many advocacy groups and some members of Congress, the Biden administration used the pretense of Title 42 to continue expelling more than 7,000 Haitians who had sought asylum after crossing the border near Del Rio, Texas.  This was done in the name of public health. However, thousands of people still enter the United States every day through other ports of entry. Do they not pose just as much a threat to public health as people coming across the southern border? Look again at the list of nationalities listed in the Title 42 expulsion program; they are all black and brown people. They are denied their right to seek asylum. They are denied entry because before they can even "enter" they are "expelled."  
According to statistics gathered and analyzed by  Witness at the Border, 90% of all removal flights in January 2022 were "expelling" people under Title 42. The majority of flights were to Haiti, sending back just under 4,000 Haitians who never got to exercise their right to seek asylum in the US. They were summarily "expelled."
Sources: Witness At The Border, American Immigration Council
MPP: WHAT IS THE "REMAIN IN MEXICO" PROGRAM AND WHY IS IT NOT BEING STOPPED?
The "Migrant Protection Protocols" (MPP),  now referred to as the "Remain in Mexico" program, went into effect in January 2019 and were used to send nearly 70,000 migrants back to Mexico before the program was suspended, and then terminated, after President Biden took office. Under MPP, individuals who arrive at ports of entry at the US southern border and seek asylum  have to pass a "credible fear" interview at the border. They are then given notices to appear in immigration court and sent back to Mexico to await their hearing.  They are instructed to return to a specific port of entry at a specific date and time for their court hearing. 
It might sound OK on paper. But a lot of those who are sent back to "remain in Mexico" under MPP never receive due process. The lack of counsel, combined with the danger and insecurity that individuals face in border towns, makes it nearly impossible for anyone subject to MPP to successfully win asylum. Many individuals were sent to Mexico at a location far from where they arrived at the border. Given the terrible conditions at many of the temporary refugee camps, thousands of people subjected to MPP were unable to return to the border for a scheduled court hearing and were ordered deported for missing court. Some missed hearings because the danger and instability of the border region forced them to abandon their cases and go home. Others missed hearings because they were the victims of kidnapping or were prevented from attending because their court paperwork was stolen. 
On the campaign trail, President Biden promised to end the "Remain in Mexico" program. Hours after his inauguration, the Department of Homeland Security (DHS) officially stopped placing any new people into MPP. Over the next few months, the Biden administration began a process of "winding down" the program, which included admitting nearly 13,000 people who had been waiting in Mexico and allowing them to seek asylum from within the United States. This wind-down was halted in August 2021 when the Biden administration was ordered to reinstate MPP (under some new regulations). Several times since then, the Supreme Court and federal courts have been blocking Biden's attempts to terminate MPP, all while thousands of migrants are continuously forced to stay in Mexico to await their US immigration hearings, sometimes placed into life-threatening situations. 
There is hope on the horizon. Just a few days ago, the US Supreme Court agreed to hear arguments (scheduled for April 2022) in the case that the Biden administration filed against a decision by the Northern District Federal Court in Texas (August 2021) which ordered the administration to continue the Remain in Mexico program.  A ruling from the Supreme Court,  hopefully resulting in the shutdown of the "Remain in Mexico" program, is expected by June.
Sources: American Immigration Council, New York Post
 
Want to find out more about the conditions at the southern US border?
Eight years. Three Presidents. And still no resolution on an asylum claim
U.S. Immigration Detention System: "A Living Hell"
Now that you are up to date on the issues at and around the southern border of the U.S., here is what you can do to

take action

this week and stand up in solidarity with immigrants and their families:


 
Tech companies are building the tools used to surveil, incarcerate, and deport our neighbors from our communities. Send a pre-written or personalized message to Tech companies to stop powering ICE during the COVID-19 pandemic! 
Members of Congress avoid accountability for the way their funding decisions impact communities. Sign this petition and participate in demanding that Congress cut funding for ICE and CBP and to defund hate!
Take part in the Communities Not Cages National Day of Action on March 3! Join IRTF's action this Friday, March 3 at 4 pm ET in front of Carl B. Stokes US Courthouse in Cleveland, or participate in this Digital Action Hour at 1 pm ET to learn more about the campaign and hold elected officials accountable! 
Not in Cleveland. Click here to find a Communities Not Cages action in your state. 
Thank you for reading IRTF's Migrant Justice  Newsletter!
Topic: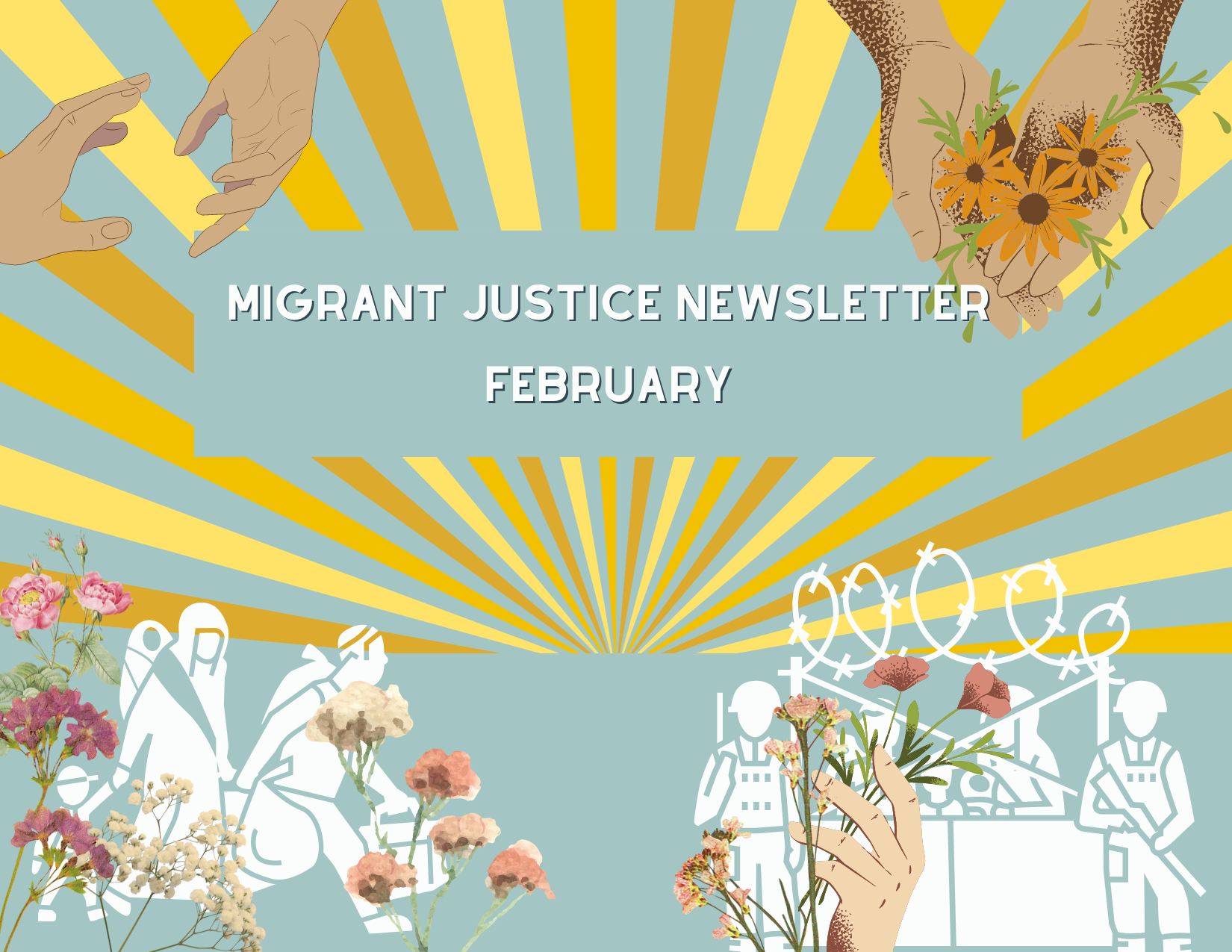 Date:
Tuesday, February 1, 2022

to

Monday, February 28, 2022