Migrant Justice Newsletter and Urgent Actions – JAN 2023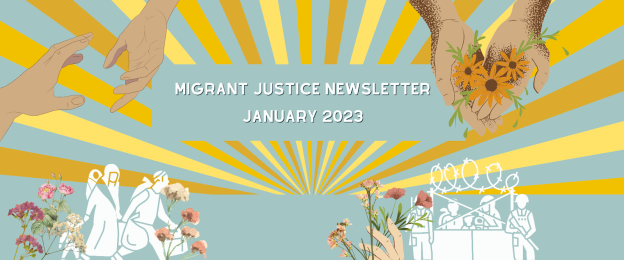 Please consider supporting IRTF's Migrant Justice work.
Click HERE to donate. Thank you.
Welcome to IRTF's January 2023 newsletter on Migrant Justice and the current situation at the US-Mexico border! After you've looked through the articles, we hope you can take a couple of minutes to see the TAKE ACTION items at the bottom.
In this newsletter, please read about
Immigration Court in Cleveland, OH
Title 42: Expelling Migrants in the Name of Health Measures. Update on Removal Flight Trends
At the Border: Recent Incidents at and around the US-Mexico Border 
At the border in Texas, Arizona: border fence, container wall
The Biden Administration presents an extension of Title 42, further manifesting reliance on the system 
Biden's New Asylum Protocols Create More Restrictions, Getting Criticism from Migrant Justice Advocates 
Ohio has the dubious distinction of enacting the first major voter suppression law following the 2022 midterms.
Temporary Protected Status (TPS) updates: Somalia, Yemen, Nicaragua, DRC, Mauritania
TAKE ACTION NOW
Here is what you can do to take action this week and act in solidarity with migrants and their families.
1- Say NO to Title 42 Expansion
2- Speak Out Against Asylum Ban
Immigration Court in Cleveland, OH
Cleveland EOIR - Deportations proceedings filed 
Through December 2022, the third month of fiscal year 2023, nationwide 241,614 new deportation cases have been filed , a rise of 73,008. That is 10,000 less compared to the proceedings filed in the previous months: 84,152 in October and 84,454. But this decline is no real progress since the low numbers are likely caused by the holidays. 
In Ohio, 1,161 new deportation proceedings were filed, bringing the fiscal year total up to 3,736. Nationwide Ohio is #17 in filing deportation proceedings.     
Trac Data December 2022
| | | | |
| --- | --- | --- | --- |
| New deportation proceedings filed (Dec 2022) | New cases filed this month in Cleveland | Cleveland, Ohio | U.S. |
| In total | 1,161 | 3,736 | 241,614 |
| Colombia | 78 | 301 | 20,509 |
| Cuba | 10 | 52 | 21,228 |
| Guatemala | 74 | 250 | 12,828 |
| Haiti | 107 | 368 | 18,739 |
| Honduras | 71 | 265 | 20,520 |
| Mexico | 92 | 284 | 25,170 |
| Nicaragua | 108 | 365 | 16,294 |
| Peru | 22 | 122 | 13,385 |
| Venezuela  | 130 | 453 | 19,842 |


Cleveland EOIR - Deportations Ordered
(please see the chart below)
In Ohio the immigration court ordered 311 new deportations in the month of December, bringing the total up to 1,153.The trend of a lower rise can also be seen at the numbers of new orders with the numbers of people ordered for deportation of being 129 less compared to October (440) and 91 less than in November (402). 
This trend is visible nationwide. The total number of deportations ordered now lies at 50,261 since October. The number of new deportations ordered was 16,256. That is 601 less than in November and 892 less compared to October. But just like the new deportation proceedings filed, this trend can be traced back to the Christmas holidays ergo a shorter month. Nationwide Ohio now is #11 in deportations ordered.            
 
| | | | |
| --- | --- | --- | --- |
| Deportations ordered (Oct 2022-Sep 2023) | New deporations ordered this month from Cleveland | Cleveland, Ohio | U.S. |
| In total | 311 | 1,153 | 50,261 |
| Brazil | 14 | 45 | 2,485 |
| Colombia | 16 | 42 | 2,079 |
| Cuba | 2 | 2 | 465 |
| Ecuador | 8 | 20 | 2,031 |
| El Salvador | 9 | 43 | 4,137 |
| Guatemala | 70 | 345 | 10,718 |
| Haiti | - | 32 | 870 |
| Honduras | 55 | 196 | 11,264 |
| Mexico | 38 | 155 | 5,946 |
| Nicaragua | 30 | 91 | 3,621 |
| Venezuela | 11 | 36 | 1,211 |
Recent months:
350: AUG 2022
402: SEP 2022
440: OCT 2022
402: NOV 2022
311: DEC 2022
Furthermore the number of Peruvians ordered for deportation has risen to 906 nationwide, 358 more than in November.
In the Juvenile Court of Cleveland 37 new minors received a deportation order. This raises the total number of deportations ordered by the Juvenile Court to 94. 55 Guatemalans, a rise of 21 compared to November, 35 Hondurans, 13 more than in November, 3 Salvadorans and one Mexican minor.  
DEC 2022 – 21 minors ordered deported from Cleveland
55 Guatemalan
35 Honduran
3 Salvadoran
1 Mexican
MINORS ordered deported from Cleveland EOIR (juvenile docket) in recent months:
161: JUL 2022
175: AUG 2022
190: SEP 2022
30: OCT 2022
57: NOV 2022
21: DEC 2022
Source: TRAC at Syracuse University (Transactional Records Access Clearinghouse)
----------------------------------------------------------------------------------------------------------------
Title 42: Expelling Migrants in the Name of Health Measures. Update on Removal Flight Trends
Title 42
In late December, the U.S. Supreme Court ordered the Biden administration to continue enforcing the policy pending a lawsuit by several Republican governors. Migrant justice advocates point to the life-threatening consequences that maintaining Title 42 in place have on those seeking asylum at the US/Mexico border. Immediately expelling migrants without giving them their right to seek asylum is the result of racist xenophobia; it is not (as Title 42 suggests) a measure to protect the health of people residing within the boundaries of the United States. The Centers for Disease Control (CDC) made that clear many months ago.
ICE Air Flights
While the end of the anti-immigrant policy Title 42 is still up in the air, the number of observed removal flights to ten different countries in Latin America and the Caribbean continues to rise. Over the last 12 months, there have been 7,980 ICE Air flights (up 1,856 from 2021);  1,416 of those have been removal flights (up 367 from 2021).  With an estimated average of 100 passengers per flight, this means that over the past 12 months, as many as 141,600 people could have been returned to Latin America, the Caribbean and a small number to Africa by air by the U.S.
The continuation of Title 42 has passed the debate on whether the health order is still relevant and justified. It is threatening a person's basic human right to seek refuge in the U.S. Furthermore, it bears life-threatening consequences to many who are coming to the U.S. border and are met with xenophobia and immediate removals.
Removal Flights, Lateral Flights, Domestic Shuffles:
In December 2022, there were 729 ICE Air flights (down from 754 in November), operated by four different charter carriers. This number is above the average for the past six months (675) by 54. 
Shuffle flights:
Shuffle flights decreased by 12 to 511 and was still the second highest month in 3 years, driven by the record number of lateral flights (see below). This number is 23% above the average for the past six months. Comparatively, the average domestic shuffle flights in 2020 and 2021 were 185 and 305.
Shuffle flights are domestic flights transporting migrants from either from one processing center along the border to another, or from one detention center to another.  Shuffle flights include the lateral flights, listed below. 
Lateral flights:
Lateral flights increased to 134 from 128 in November; this is the highest month recorded since March 2021. The 128 was 1.8x the prior 6-month average of 74. The daily average was 4.3 in December, the same as November.  
Lateral flights are from border city to border city. Most lateral flights originated in El Paso, Tucson, and Yuma. The destination cities include Harlingen, Laredo, and San Diego. Migrants are flown from one border city to another for processing, which leads to expulsion for at least half of them. There are also buses doing the same thing, but no data is available on the buses. 
In December, 110 lateral flights originated in El Paso, 16 in Yuma, and 8 in Tucson. In December, the proportion of originations remained almost the same for El Paso (81% to 82%) and tilted a bit more to Yuma (9% to 12%) from Tucson (10% to 6%). It is worth noting that encounters in El Paso sector were 55,853 in November 2022; 3.4x November 2021 at 16,324, and up 39,529.
Destination cities included Laredo receiving 65 flights, Harlingen receiving 50, and San Diego receiving 19. In December, compared to November, the proportion of flights tilted to Laredo (33% to 49%) from Harlingen (48% to 37%) and San Diego (19% to 14%) where laterals ended 19 December. 
In addition to lateral flights, there are lateral buses which have no visibility, including for expulsions of Venezuelans.  There are buses going to at least San Diego, Laredo, and to a lesser extent Tucson and the Rio Grande Valley for decompression and expulsions.
Removal flights:
In December, removal flights were 95, down 6 from November 2022 and down 24 from the prior 6-month average. They were also down 26 from December of 2021. 
In December, removal flights were down 6 from November, flights to Guatemala were down 4 (26 to 22), Peru down 3 (4 to 1), Colombia down 2 (17 to 15), with Honduras (23 to 22), El Salvador (11 to 10), and Brazil (2 to 1) each falling by 1. Peru flights paused in December until the 29th, most likely because of the unrest in Peru. Ecuador continued to ramp up flights from 2 in October to 8 in November and 13 in December. Haiti saw the first deportation flight since the 6th of September.
The encounters of people from Northern Triangle countries, which generally comprise 55%-65% of flights, have been falling on an absolute and relative basis. They fell 25,000 from June to November, while total encounters of Cubans, Nicaraguans, and Mexicans who are not amenable to air removals increased by 33,600.
Four of the removal flights relate to one route with a small jet (generally 10-12 passengers maximum) that included Bulgaria, Togo, Nepal, and Ghana.
Removal flights are a mix of migrants being sent back to their home countries under Title 42 ("expulsions"), Title 8 ("inadmissables"),  and deportations. Countries now accepting T42 flights are: Brazil, Colombia, Ecuador, Guatemala, Haiti, Honduras, and Peru.
Where are they being sent?
The countries from the Northern Triangle (Guatemala, Honduras, El Salvador) all continue to top the number of monthly removal flights, a trend that is both devastating and alarming. While these countries have been breaking records, there has been a decreasing trend of flights over the past few months. Flights to Guatemala (22), Honduras (22), and El Salvador (10) have been decreasing for at least the past five months, while flights to Colombia (15) have just started to decrease in October. These flights comprise 73% of removal flights.
Guatemala
ICE Air flights to Guatemala decreased from 26 to 22 in December, close to the prior 3-month average, and below 29 and 46 flights in August and July, respectively. This reasonably consistent recent pace is in line with a consistent pace of encounters the last few months between 15,681 and 14,433, after reaching a 15-month high of 24,648 in July.
Since June, encounters of Guatemalans fell from 24,648 to 14,433 in November, as flights decreased by 22 from 44 in June to 22 in December 2022.
With the eight (8)  Mexican government deportation flights to Guatemala added to the ICE flights, Guatemala received 30 flights returning 3,600 citizens by air from the US and Mexico. Combined with the estimated 2,200 Guatemalans returned by land by Mexico at Tecún Únam an estimated 5,800 Guatemalans returned by the US and Mexico, 1,548 less than in November, and far below the 10,863 that were returned in June 2022, by 5,063, and reasonably consistent with the 40% decline in US encounters of Guatemalans from June to November.
Honduras
To Honduras, flights decreased from 23 (November) to 22 (December).In December, estimated returns by ICE to Honduras of 2,106 represented 16% of November encounters and 33% of those subjected to T42.  Since June, encounters of Hondurans fell from 24,177 to 12,996 in November as flights decreased by 17– from 39 in June to 22 in December.
In addition to the 22 removal flights originating in the US, the Mexican government operated an additional eight (8) removal flights. So Honduras received 30 return flights in December, returning an estimated 2,900 citizens by air.
Colombia
ICE Air Flights to Colombia decreased by 2 (17 in November, 15 in December). This is the 4th straight month of modest decline from 23 in August. Encounters of Colombbians did fall from October (17,197) to November (15,572), as did those subjected to T42 (2,177 to 1,249), leading to expulsion rates of 13% and 8%, in October and November respectively.
Ecuador
Ice Air Flights to Ecuador increased significantly from two (2) in October to eight (8) in November, to 13 in December. The increase is no doubt related to encounters increasing for four consecutive months from 2,948 in July to 11,831 in November. During that same time, those subjected to T42 increased from 114 in July to 1,361 in November, leading to expulsion rates of 4% and 12%, for July and November, respectively. 
El Salvador
Flights to El Salvador decreased slightly by one (11 in November, 10 in December). Five of those flights were coupled with flights to Ecuador, so there were only five (5) unique flights to El Salvador.  
Special Note: There has long been uncertainty as to whether El Salvador accepted returns of those subject to T42. According to a court declaration in November, El Salvador DOES NOT accept T42 flights, which means these are all T8 returns, some of which could be expedited.
Other destinations
Peru
ICE Air Flights dropped from four (4), basically one every Friday since mid-August, to one as they seemed to be paused through the month because of the unrest in Peru, only to restart on 29 December 2022.
Brazil
Flights decreased from ten (10) in August to two (2) in each of the last three months, and now one (1) in December. This is probably related to the decrease in encounters of Brazilians at the US southern border from 5,747 in August to 714 in November. 
Haiti: 
Experienced the first removal flight in December since the last one on September 6.  It appeared to be a deportation flight and it was reported to carry 26 people back to Haiti. 
Small Jet Removals
Observed included two (2) flights on a gryphon Air Gulfstream that carries 10-12 passengers as a maximum. The jets appear to have deported people on two separate routes. One to Bulgaria and Nepal, and another to Ghana and Togo.
Other destinations for ICE Air flights this month were:
Dominican Republic (2)
Nicaragua (3)
Jamaica (1)
Mexico Operated Removal
Mexico operated removal flights are now all operated by a new company, VivaAerobus, which operates many more commercial routes than Mexico's old contractor, Magnacharter. 
The number of flights increased from 22 in November to 32 in December, 6 higher than the 6-month average.  
Flights to all countries increased with Guatemala up 2 (9 to 11), Honduras up 2 (6 to 8), Ecuador up 2 (1 to 3), El Salvador up 2 (0 to 2), Nicaragua up 1 (3 to 4) and 
Cuba up 1 (3 to 4).
Departure cities in Mexico include Mexico City (10), Monterrey (11), Villahermosa (4), Hermosillo (3), Tapachula (3), and Tuxtla (1).
Sources: Witness At the Border, Reuters
At the Border: Recent Incidents at and around the US-Mexico Border 
This is a space where we share current incidents from the US southern border to show that these issues that we write about do, in fact, immediately affect people at the border and in detention, and the horrible things many migrants have to experience while seeking refuge in the U.S. 
Migrant shot and injured by National Guard soldier patrolling border
[This is a summary of an article published in The Texas Tribune by Davis Winkie, Military Times, and James Barragan, The Texas Tribune on January 19, 2023]
A Texas National Guard soldier patrolling the Texas-Mexico border shot a migrant in the morning on Sunday, January 15th, just west of McAllen. It is not known whether or not the migrant was carrying a firearm or any other weapons during the incident. The injured migrant did not have a life-threatening injury. 
The soldier who fired, Spc. Angel Gallegos, is an infantryman assigned to the border as part of Gov. Greg Abbott's Operation Lone Star, a multimillion dollar mission intended to curb the number of migrants entering Texas. There are around 5,500 members of the Texas National Guard who remain posted along the Rio Grande manning observation posts, building fences and in some cases apprehending migrants for the mission, which began in March of 2021.
https://www.texastribune.org/2023/01/19/national-guard-migrant-shot-border/ 
Want to find out more about the conditions at the southern US border?
Sign up for the weekly Border Update from WOLA.
https://www.wola.org/tag/weekly-border-update/
At the border in Texas, Arizona: border fence, container wall
Austin Kocher, who is the director of TRAC at Syracuse University, was able to visit the border in both Arizona and Texas and shares photos he took while visiting the border. These photos show a view of the border that not everyone gets to experience and shows just how poorly the border wall was established. 
Arizona Container Wall
The container wall was created by Republican Governor Ducey of Arizona. 
Austin Kocher shares that "standing in standing in front of the container wall that day, the wall illustrates the connections between globalization and borders, illustrates the ways in which borders themselves can be mobile (put up and taken down in mere weeks), and the ongoing contentious politics over who has a right to engage in the production of physical border walls."
After being sued by the federal government for the container wall, Arizona has agreed to remove the border wall.
Texas' Border Fence
The fence was funded by a GoFundMe started by Brian Kolfage and two other people, who are all in court in Texas after pleading guilty to defrauding donors that gave money for the GoFundMe project titled "We Build the Wall". Brian Kolfage is an Air Force veteran from Detroit, Michigan.
Kolfage wanted to contribute directly to the US government and realized he couldn't, so decided in 2018 to build a wall himself using other people's money. This project started to raise suspicions and the government claimed that Kolfage had used "fake invoices and sham vendor arrangements to siphon more than $350,000 for personal expenses, including home renovations, a boat and a luxury SUV." 
With the Kolfage siphoning money scandal there are also more problems with the quality of the fence. The fence posts which are around 18 feet high are embedded in less than three feet of concrete, even two feet in some places. Cracks have already started to appear in between the posts and more cracks run from the posts, some towards the river and some towards the sugar cane fields growing in the floodplain. 
Structural integrity of the fence and the foundation of the fence is in question. The fence and the pad beneath appear to be gradually leaning into the river. The fence posts and the pad beneath it appear to be gradually leaning into the river, opening up a trough between the two concrete pads large enough to stick your hand into.
You can find more photos and information from Austin's trip by visiting his website https://austinkocher.substack.com/. 
Sources: Austin Kocher
-------------------
The Biden Administration presents an extension of Title 42, further manifesting reliance on the system 
In IRTF's Migrant Justice Newsletter of November 2022, we included an article about new attempts by the Biden Administration to make applying for political asylum harder in order to dissuade migrants from coming to the US border. One proposal is placing single adults into an expedited removal process if  1)  they did not first apply for asylum in another country through which they traveled, or 2)  they did not pre-apply for some other legal pathway into the US. Migrant justice advocates rightfully describe this as restrictive and punitive. A second proposal is criminal prosecution. The administration suggests dramatically increasing efforts to prosecute single adults who have illegally crossed the border, especially if they have tried to evade Border Patrol. Migrants targeted by the proposal would have committed no other crimes or illegal activities, and it would make border crossing attempts a high-risk path into the country. 
On January 5, this new policy was presented and new rules established.
In its new migration system, the Biden Administration expanded the xenophobic Title 42, which was established under the cloak of combating the spread of Covid 19. Instead of meeting his promise to end Title 42, Cuba, Haiti, Nicaragua and Venezuela were added to the list of countries now eligible to be expelled under Title 42. For people fleeing these countries this takes away their chance of crossing the border and applying for asylum in the United States.
Restricted by all Title 42 regulations, migrants now have to apply for protection status from their home countries, find financial sponsors and have access to air travel to enter the United States. For these four new countries, the Biden Administration has set a limit of 30,000 individuals monthly who may enter under humanitarian parole, over a two year period.  
Lesser known but at least as harmful is the second new restriction, which was in talks since November. The new policy obligates immigrants traveling on land to first apply for asylum in one of the pathway countries. If this condition is not fulfilled, an immediate expulsion is very likely. But this policy is not as new as one might think. In 2021, former president Donald Trump attempted to implement a similar immigration ban but failed. 
The new regulation will make it next to impossible for most individuals from South and Central America to be granted asylum in the United States. For most migrants applying in a cross-through country is no valid option. With many of these countries being plagued by war, crime and poverty, they are not a step up from the refugees' countries of origin.  It is likely that this, instead of slowing down migration into the United States, will lead to a rise in illegal border crossings and undocumented immigrants entering the United States.     
The new policy in its core resembles the European Dublin Regulation, first implemented in 1997 under the name of Dublin Convention and overhauled in 2003 and 2008, establishing the now active Dublin III Regulation. Under this restriction, refugees striving to find a safe life in Europe are constrained to apply for asylum in the country of first entrance. Besides restraining migrants' ability to choose a destination, it harms them, as well as the countries of first arrival. Overwhelmed by the number of people seeking asylum, countries like Spain, Greece and Italy saw a collapse of their immigration agencies, leading to people living in overcrowded refugee camps or even ending up on the streets with no prospects for the future. This– mixed with a strain on the already weak economies and social systems–leads to an atmosophere of tension which rightwing groups and parties use to spread hate against migrants and those supporting them. 
Overall, the Dublin Regulation proves that such a restrictive system not only brings harm to those fleeing, but is capable of devastating entire economies and societies. In Central America the new policy may lead to collapses of entire countries and even more people leaving their homes.
It is time for a system that puts human life first instead of punishing those already most vulnerable.  
sources:                        
https://www.axios.com/2022/11/30/biden-title-42-immigration-news
https://theowp.org/new-u-s-border-policy-is-a-threat-to-migrant-rights/ 
https://www.nytimes.com/2023/01/26/us/politics/democrats-biden-border-immigration.html 
https://jacobin.com/2023/01/joe-biden-immigration-policy-xenophobia-right-wingers-borders-refugees
------------------
Biden's New Asylum Protocols Create More Restrictions, Getting Criticism from Migrant Justice Advocates 
A recent announcement by the Biden administration of new protocols for admission of migrants seeking asylum is getting criticism from migrant justice advocates.
The new protocols were announced in preparation for the impending end to Title 42, a policy from the 1940s that was re-implemented by Trump ostensibly as a way of slowing the spread of the corona virus into the US. Since Trump enacted Title 42 in March 2020, critics have called it nothing but a border enforcement policy, meant to prevent migrants from exercising their right to request political asylum.
Humanitarian parole is one part of it. On paper it sounds decent. It's been used recently for migrants from Afghanistan and Ukraine. In October, the program was initiated for Venezuelans. But the tight quotas are the problem.
DHS (Department of Homeland Security) says it will continue the parole program for Venezuelans and add nationals from Cuba, Haiti, and Nicaragua, accepting 30,000 migrants from these countries each month.
But Title 42 expulsions are increasing at the same time. Title 42 is still in effect because the US Supreme Court has ordered the Biden administration to not cancel Title 42 while a legal challenge by Republican governors is pending. Title 42's fate remains in limbo until February at the earliest, as it is unclear when and how the Supreme Court will rule on a previous court challenge that led it to stay the program's end in December.  
Meanwhile, DHS has negotiated with the government of Mexico to expand its acceptance of migrants expelled under Title 42. Mexico has already been accepting Title 42 expelled migrants from Mexico, El Salvador, Guatemala and Honduras.  In addition to these, Mexico has now agreed to receive an additional 30,000 migrants expelled from the US border each month from the four countries to which the US is offering humanitarian parole: Cuba, Haiti, Nicaragua and Venezuela. [Note: It's doubtful that Mexican border cities can provide safety and humanitarian needs for an additional 30,000 expelled people per month. In many cases, organized criminals are waiting at the very sites where expulsions take place.]
The new parole program is problematic. First, the quotas. In October and November 2022, there were 134,000 citizens of Cuba, Haiti, and Nicaragua encountered at the US southern border. The quota is now 30,000, which includes Venezuela as well. Second, the new parole program provides only temporary permission to reside in the United States. Third, it would establish a double system of ineligibility for people to seek asylum: a) access to asylum would be denied to individuals from eligible countries who are unable to use the parole program, b) the parole program would be restricted to those who meet certain requirements, and c) the parole program would be closed to those who have crossed borders without authorization.
Who IS eligible for the parole program:
ELIGIBLE: Cubans, Haitians, Venezuelans, and Nicaraguans who arrive by plane, have a valid passport, and have a US sponsor. To be eligible, applicants will 1) need to have a supporter in the United States, 2) undergo clear robust security vetting, 3) meet other eligibility criteria; and 4) warrant a favorable exercise of discretion.
Who IS NOT eligible for the parole program:
1) NOT ELIGIBLE: Cubans and Haitians arriving by boat on the shores of Florida. Since October 1, 2022,  the U.S. Coast Guard has intercepted 5,183 Cubans and 1,244 Haitians at sea; most are repatriated by the Coast Guard. If they succeed in getting to land, Border Patrol usually catches them. Cubans and Haitians traveling by sea are not eligible to apply for the parole program. They also face a five-year ban from the United States.
2) NOT ELIGIBLE: If a migrant arrives at the US southern border, having passed through another country on their way to the US (as have all migrants journeying by land), they have to ask for asylum in that country. So Hondurans and Salvadorans need to ask for asylum in Guatemala or Mexico. Guatemalans need to ask for asylum in Mexico.
3) NOT ELIGIBLE: Cubans, Haitians, Venezuelans, and Nicaraguans who arrive at the land border are not eligible for parole.
4) NOT ELIGIBLE: Anyone previously removed under Title 42 will not be eligible. 
 In essence, what does all this mean? This means that those who can apply for humanitarian parole will be middle class and upper-middle class people who have the economic means to fly and have the social connections in the US. 
These new asylum-blocking protocols—in addition to the prolonged implementation of Title 42—will  only create more hardship, including death.  With no legal pathway , thousands (disproportionately Black and Indigenous) will take dangerous, hidden migration routes, where they are more likely to fall prey to kidnappers, extortionists, sexual predators, and corrupt migration and law enforcement officials.
sources:
https://www.wola.org/analysis/biden-administration-fresh-steps-limit-access-protection-united-states/
https://www.miamiherald.com/news/nation-world/world/americas/haiti/article271664002.html
https://www.americamagazine.org/politics-society/2023/01/09/biden-border-pope-francis-benedict-immigration-title-42-244486
https://www.pbs.org/newshour/politics/watch-live-dhs-secretary-mayorkas-holds-news-briefing-after-new-border-restrictions-announced
https://www.pbs.org/newshour/nation/what-is-title-42-and-what-does-it-mean-for-immigration-at-the-southern-border
https://quixote.org/posts/biden-considers-asylum-ban-as-states-sue-to-end-parole-program#/6/
https://ndlon.org/ndlon-response-to-president-bidens-remarks-on-border-security-enforcement/
 
Ohio has the dubious distinction of enacting the first major voter suppression law following the 2022 midterms.
 On Jan. 6, 2023, Ohio Gov. Mike DeWine (R) signed House Bill 458 into law, imposing a strict photo ID requirement on Ohio voters and the law, which includes several other voter restrictions, will go into effect on April 6, 2023. Not only is the bill anti-voter access, it is anti-immigrant.
H.B. 458 requires Ohio voters to present a form of photo identification, such as an Ohio driver's license, state ID card, interim identification form, U.S. passport or passport card or military ID card; In-person voters without a valid photo ID will have to cast a provisional ballot and provide a photo ID after Election Day to have their vote counted. Voters who vote absentee by mail have to provide a copy of their photo ID, or the last four digits of their Social Security number, or the number of the State of Ohio ID or Ohio driver's license.
So what's different? Currently, Ohio voters are only required to present a non-photo ID, such as utility bills or bank statements, when voting. There are also other forms of ID (such as a college student ID or library card) which are currently accepted that have been eliminated by HB 458.
Absentee voting has also been restricted. The new law shortens the deadline to request an absentee ballot from 12pm on the third day before Election Day to the seventh day before Election Day, brings forward the deadline to return absentee ballots from the tenth day after Election Day to the fourth day, decreases the number of days voters have to cure ballots from 10 to four days, and restricts each county to one ballot drop box or drop-off location. The bill also eliminates in-person early voting on the day prior to Election Day.
Supporters of voter rights are not sitting back idly. On January 6, ​​the Northeast Ohio Coalition for the Homeless, Ohio Federation of Teachers, Ohio Alliance for Retired Americans and Union Veterans Council jointly sued Secretary of State Frank LaRose. The plaintiffs allege that these unnecessary restrictions "individually and cumulatively, impose disproportionately severe burdens on young, elderly, and Black voters in the state," along with military members and Ohioans living abroad, by "making it substantially harder to vote in person and by mail, while at the same time making it more difficult for voters to correct any mistakes made in the process."
The anti-immigrant part of the new law is this: new Ohio driver's licenses will be required to list citizenship status. One might ask: if non-citizens are not allowed to vote, what's the big deal?
Samantha Searls of the Inter-Community Justice and Peace Center (IJPC) points out the harms to non-citizen Ohio residents. A new state ID that explicitly lists citizenship status puts non-citizen residents at risk for discrimination when withdrawing money from the bank, renting a car, entering a government building, purchasing alcohol, and other everyday activities. Undocumented people are not the only non-citizens who will be harmed. Ohio is home to many  thousands of non-citizen who have some sort of documented status, such as TPS, DACA, a special temporary visa (such as those who have been victims of domestic violence), or they have a green card.
Many migrants/immigrants, even though they are not US citizens, are eligible for work permits, driver's licenses, and state IDs. Corrylee Drozda, who works with immigrants for the Legal Aid Society of Cleveland, says that this new law will disincentivize non-citizens from getting a state ID and could make the process even more challenging at the Bureau of Motor Vehicles. She told the Ohio Capital Journal: "Our clients often tell us that the BMV wrongly turned them away because the BMV was not familiar with the type of document showing their eligible immigration status."
The provision to include "non-citizen" on newly issued state IDs comes from another bill that failed. That bill would have prohibited towns like Yellow Springs from allowing non-citizens to vote on purely local matters. Even though that bill failed, the provision for listing "non-citizen" on state IDs was slipped into HB 458.
sources:
https://www.democracydocket.com/news-alerts/ohio-governor-signs-strict-photo-id-bill-into-law/
https://www.democracydocket.com/news-alerts/ohio-organizations-sue-over-states-new-voter-suppression-law/
https://www.publicnewsservice.org/2023-01-09/immigrant/ohio-governor-signs-citizenship-status-voter-id-bill/a82230-1
https://www.yahoo.com/now/ohio-law-requiring-ids-indicate-180238943.html?guccounter=1&guce_referrer=aHR0cHM6Ly93d3cuZ29vZ2xlLmNvbS8&guce_referrer_sig=AQAAAF8T2Pwnsuafg3Yy-czTjdu2WdIipU5HnZzuAkzNBnD7DOeoK1qeIZiwv0Nl8NAmXD1XD6PK7Mq5c1s14Kd5tXH2glXuewUtXgRvJMFEmDl7Bd44x2u4_2ZrRRcomUICvPlCtpMJR8OFnYRqBEHES1J7C2KgWFuDeDACDo7eBp__
https://ohiocapitaljournal.com/2023/01/18/noncitizens-will-now-be-listed-on-ohio-ids-advocates-worry-that-will-endanger-immigrants/
https://www.cleveland.com/opinion/2022/10/just-when-you-thought-2022-couldnt-get-any-weirder-eric-foster.html
https://www.whio.com/news/politics/yellow-springs-wants-extend-voting-rights-villages-noncitizen-residents/TD3KZWL6IFHXNLPHCR6MEKCOZ4/
Temporary Protected Status (TPS) updates: Somalia, Yemen, Nicaragua, DRC, Mauritania
The secretary of U.S. Department of Homeland Security (DHS Secretary) has the authority to grant Temporary Protected Status (TPS) to eligible foreign born individuals whom DHS deems are unable to return home safely due to conditions or circumstances preventing their country from adequately handling the return, such as armed conflict or environmental disaster.
Migrants who qualify for TPS are in better shape than others who are totally undocumented. Even though they have no path to permanent legalization, they can get  permission to work while residing in the US. And about every two years they can re-apply to renew their TPS and work permit.
Since December 30, 2022, DHS has announced the extension (redesignation) of TPS for nationals of Yemen and Somalia, now set to expire in 2024.
National TPS advocacy organizations have been gathering sign-on letters to push for the extension of TPS for Nicaraguans and a new TPS designation for DRC (Democratic Republic of Congo) and Mauritania.
Nicaragua
The American Friends Service Committee (AFSC) and the Florida Immigrant Coalition (FLIC) are leading an effort among US-based human rights groups for a re-designation (i.e., new designation) of TPS for Nicaraguans. They point to the consolidation of judicial, electoral, and presidential power under the Ortega-Murillo regime, and repression against dissidents. Furthermore, the structural and economic impacts of Category 4 Hurricanes Eta and Iota are still felt. Currently, the only Nicaraguans eligible for TPS are those who can prove continuous residence in the US since January 5, 1999.
DRC
In the DRC, the armed conflict took a dangerous turn in November 2022 as M23 rebels staged a comeback. DRC currently tops the list of the top five countries for refugees resettled to the United States. But of those  top five countries (DRC, Syria, Sudan, Burma, and Ukraine), DRC is the only country not currently designated for Temporary Protected Status. More than 1600 people were killed in the armed conflict during 2022.
Mauritania
On January 18, 2023, US Senator Sherrod Brown (D-OH) and Rep. Mike Carey (R-OH-15) sent a letter to President Joe Biden and DHS Secretary Alejandro Mayorkas, requesting the designation of Temporary Protected Status for Mauritanians in the United States. Credit is due to organizers like Maryam Sy with the Ohio Immigrant Alliance. Ohio is home to the largest group of Black Mauritanians in the United States. They are refugees from the genocide of the 1980s-90s and today's apartheid regime. Prior to 2017, deportations from the U.S. to Mauritania were deliberately rare, but President Trump increased deportations to Mauritania exponentially.
TPS-designated nationals
Here is the list of nationals for whom TPS has been designated, ranked in order of when their TPS protection is scheduled to expire. The number in parentheses is the approximate number of persons of that nationality who hold TPS status, if available from DHS.
2023
Oct 19: Ukraine (NA)
Nov 3: South Sudan (610)
Nov 20: Afghanistan
Dec 7: Cameroon (NA)
2024
March 10: Venezuela (111,700)
March 31: Syria (6,448)
May 24: Burma (380)
June 12: Ethiopia (26,730)
June 30: El Salvador (193,940—many here since the 2001 earthquake)
June 30: Haiti (42,890; those entering the US after Nov 6 2022 not eligible)
June 30: Honduras (58,625—many here since Hurricane Mitch in 1998)
June 30: Nicaragua (3,130--many here since Hurricane Mitch in 1998)
June 30: Nepal (9,355)
June 30: Sudan  (NA)
Sep 3: Yemen (1,355)
Sep 17: Somalia (370)
As the expiration date of TPS protections approaches, the DHS Secretary has the authority to renew TPS for another 18 months. The more permanent (and just) fix would be for Congress to give permanent legal status and a pathway to citizenship for TPS holders. That is what migrant justice advocates are pushing for.
Sources: 
https://www.dhs.gov/news/2022/03/02/secretary-mayorkas-designates-sudan-and-extends-and-redesignates-south-sudan
https://www.dhs.gov/news/2023/01/12/secretary-mayorkas-extends-and-redesignates-somalia-temporary-protected-status-18
https://www.uscis.gov/newsroom/news-releases/secretary-mayorkas-extends-and-redesignates-temporary-protected-status-for-yemen
https://www.interfaithimmigration.org/2022/11/03/after-tps-settlement-negotiations-fail-faith-groups-call-for-expansive-use-of-tps-for-vulnerable-nations/?utm_source=rss&utm_medium=rss&utm_campaign=after-tps-settlement-negotiations-fail-faith-groups-call-for-expansive-use-of-tps-for-vulnerable-nations
https://ohioimmigrant.org/2023/01/18/senator-brown-rep-carey-renew-demand-for-mauritania-tps-ded/
https://www.uscis.gov/humanitarian/temporary-protected-status
TAKE ACTION NOW
Now that you are up to date on the issues at and around the southern border of the U.S., here is what you can do to take action this week and act in solidarity with migrants and their families.
1- Say NO to Title 42 Expansion
The Biden administration recently announced that it will expand Title 42 for Haitian, Nicaraguan, and Cuban nationals. A similar decision regarding Venezuelan asylum-seekers has been disastrous. Remind Congress and the White House that now is the time to end Title 42, not expand it.
2- Speak Out Against Asylum Ban
The Biden administration is considering a new regulation that would block migrants from applying for asylum if they did not first apply in a different country or if they entered irregularly. This amounts to a ban on asylum and is a gross violation of international and domestic law. 
In January, the administration created a new humanitarian parole program to allow some migrants from Venezuela, Nicaragua, Haiti, and Cuba to come to the U.S. for two years if they meet certain requirements. Twenty states have announced they will challenge the program in federal court, which, together with the asylum ban, could leave families with even fewer options to seek safety. Remind Congress and the White House that we are a country that welcomes asylum seekers.
Sources: Quijote Center, American Friends Service Committee
Thank you for reading IRTF's Migrant Justice Newsletter!
Click here to read newsletters from previous months