Migrant Justice Newsletter and Urgent Actions - November 2022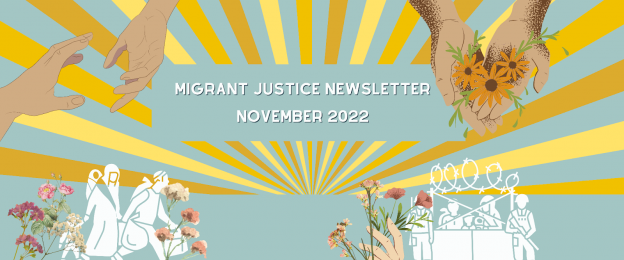 Immigration Court in Cleveland, OH:
Ohio still ranks #19 nationally in the number of deportation proceedings filed and #10 nationally in ordering deporations.
The immigration court in Cleveland (actually called the Executive Office for Immigration Review, or EOIR) is the only immigration court in the whole state of Ohio. In Fiscal Year 2022 (October 2021 through September 2022), the US government filed 12,195 cases for removal of immigrants in the Cleveland EOIR. Now, in the new Fiscal Year 2023 (since October 2023) there have already been 1,239 new deportation proceedings filed in one month. A rise of over 300 cases, compared to the 913 last month. Currently, Ohio holds its #19 spot nationwide in the number of deportation proceedings filed. When it comes to the number of immigrants ordered deported, Ohio ranks #10 nationwide. These are the recent numbers from TRAC (Transactional Records Access Clearinghouse, based at Syracuse University).
Venezuelans now hold the #6 spot in deportation proceedings nationwide with 6,850 cases filed. Taking a look at Ohio, Venezuelans rank #2 after Nicaraguans. In the first month of fiscal year 2023, 140 cases were filed against Venezuelans in Ohio, with 6,710 more filed in the entire US. 
Cleveland EOIR - Deportation Proceedings Filed
Out of the 84,152 deportation proceedings filed nationwide, 1,239 were filed at the immigration court in Cleveland in October, keeping Ohio at 19th place of the most cases filed by state throughout the country. Most of the deportation proceedings filed in October by the Cleveland EOIR court have been against Nicaraguans, Venezuelans, Haitians, Hondurans, and Columbians
The number of cases filed shows that there is still no effort by the Biden administration to slow down deportations. The contrary is the case. With 84,152 cases filed, already 9.7% of last year's total have been reached. If the cases filed keep rising at this rate, the 1 million mark will be crossed.  
October 2022 (beginning of new fiscal year)
New deportation proceedings filed 

New cases filed this month in Cleveland (Oct 2022)

Cleveland, Ohio

total for this fiscal year

U.S.

total for this fiscal year

In total

1,239

1,239

84,152

Nicaragua

140

140

5,525

Venezuela

134

134

6,850

Haiti

120

120

7,259

Honduras

111

111

7,492

Colombia

103

103

8,522

Guatemala

98

98

4,578

Mexico

91

91

7,533

Cuba

20

20

7,831
Deportations ordered 

New deporations ordered this month from Cleveland (Oct 2022)

Cleveland, Ohio

total for this fiscal year

U.S.

total for this fiscal year

In total

440

440

17,148

Guatemala

165

165

3,543

Mexico

62

62

2,075

Honduras

62

62

3,826

Nicaragua

26

26

1,258

Brazil

21

21

871

Colombia

11

11

701

El Salvador

11

11

1,451

Venezuela

8

8

426
Furthermore, 689 deportations were ordered against Ecuadorians, 6 of which were in Cleveland. Nationwide, 180 Cubans were ordered for deportation.
The Cleveland Juvenile Court docket ordered 30 deportations against minors: 17 Guatemalans and 13 Hondurans. 
These are alarming numbers. When looking back at 2022, the total deportation proceedings filed in 2022 was 865,825 and deportations ordered 117,924. The new deportation orders are already setting a trend to exceed those of 2022, with 17,148 deportations ordered in October–more than 14.5% of last year's amount. It gets even worse with deportation orders against minors. In the first month of Fisca Year 2023,  more than 15.7% of last year's total deportations were ordered under Cleveland's Juvenile Court docket.
Source: TRAC at Syracuse University (Transactional Records Access Clearinghouse)
Recent Border Trends: Why We See so Many Nicaraguans and Venezuelans Arriving at the U.S. Southern Border
Nicaraguan Migrants:
In Nicaragua, there are unofficial estimates that roughly 10% of the population have left the country only in the last couple of months. Some people even call it an exodus. At the southern U.S. border, the number of Nicaraguan migrants encountered increased dramatically over the past 18 months, from just a couple hundred per month to about 13,000 on a monthly average. The official explanation by the U.S. government and media for this sudden rise in migration to the United States from Nicaragua is political. Claims are being made that ever since the U.S.-financed coup attempt in 2018, Nicaraguans are facing repression and persecution at home and are therefore emigrating north. However, while many arbitrary arrests were made after the coup attempt, now most citizens are able to live somewhat free again. The motives for leaving Nicaragua today are mostly socio-economic.
The Nicaraguan economy never fully recovered from the U.S. sanctions that have been somewhat active since the 1980s and only intensified since then, especially after the country was hit by the pandemic and agricultural destruction due to climate change. And while the living costs in Nicaragua are relatively low compared to those of other Latin American countries, many Nicaraguans are still struggling to cover their families' expenses and are seeking higher wages in the United States. Especially in the past one or two years, there has been a high demand of low-wage workers in the U.S. due to the pandemic. Since many businesses are looking to hire,  migrant workers are almost guaranteed to find work if they are allowed to enter the United States. 
But most of all what is motivating more and more Nicaraguans to attempt migration to the U.S. is the success stories of those around them. Almost every family in Nicaragua has at least one or two relatives working in the U.S. and sending a significant amount of money back home each month. Moreover,  migration to the U.S. seems fairly successful and promising for Nicaraguans, as most of them are processed under the border policy Title 8 (since they are perceived to be fleeing from political repression) and are allowed to legally enter the United States and work. More than any immediate and pressing threats or other "push"-factors, it is the "pull"-factors of a promising economic opportunity and higher chances of success that has made the number of Nicaraguan encounters by Customs and Border Patrol at the southern U.S. border skyrocket over the past 1 ½ years.
Venezuelan Migrants:
A similar development can be seen with Venezuelan immigrants.  In recent years, 7.1 million citizens have left Venezuela, a country with a population of only 30 million, and primarily settled in neighboring countries where they are often met with discrimination and similar living conditions as the ones they fled. Following the reopening of the US southern border in 2021, the number of Venezuelans traveling towards the United States rose rapidly, with many taking advantage of the relatively easy entrance and the improbability of a deportation. Up until October 2022, it was possible for Venezuelans traveling with a passport to enter Mexico without a visa.  Migrants who were able to afford it often flew into Mexico's northern border cities, where they crossed the US-Mexican border and turned themselves in to authorities.  The US was unable to expel Venezuelans back into Mexico because it had no agreement with the government of Mexico to do so.
Under strong suggestion  by the United States, Mexico began to require visas for Venezuelans, causing a decline in immigration. After the all time high of 24,000 Venezuelans being apprehended at the US border, the number stagnated to only 3,000 by February 2022. But this decline was short lived. The number of Venezuelans arriving at the border started to rise again, along with a  rise in the number of Venezuelans passing through the Darién Gap in Panama, (coming from Colombia and Ecuador), a route that had previously been seen as an impassable barrier with its dense jungles. Since March 2022, the Darién Gap has become an increasingly popular passage, with 48,000 immigrants using it in September alone. So far, around 80% of the people taking the dangerous track that has killed hundredshave been Venezuelans. 
On October 12, the US and Mexican governments announced Mexico's willingness to expand the Title 42 agreement to Venezuelans, leaving hundreds stranded in Mexican border towns. This decision is likely to cause a heavy humanitarian crisis at the border, putting strain on immigrants as well as the local population and increasing crime and violence.       
Sources: Council on Hemispheric Affairs (COHA), Fairness & Accuracy in Reporting (FAIR)
Title 42: Expelling Migrants in the Name of Health Measures; Biden Urges Mexico to Take Migrants under COVID Expulsion Order He Promised to End
On November 15, a federal judge struck down Title 42 after years of advocacy by migrant justice advocates to stop this racist and xenophobic program. But whether Title 42 will actually end is still up in the air. The court gave the Biden administration until December 21. 
Despite his public stance to end Title 42,  Biden is urging the Mexican government to accept more migrants from Cuba, Nicaragua, and Venezuela under the COVID-19 expulsion order. There have been concerns raised by US Secretary of State Antony Blinken about the escalating number of migrants crossings into the US, but Mexico has not yet promised any specific actions. Mexico already accepts US Title 42 "expelled" migrants who are nationals of Guatemala, Honduras, and El Salvador. 
ICE Air Flights
While the end of the anti-immigrant policy Title 42 is still up in the air, the number of observed removal flights to ten different countries in Latin America and the Caribbean continues to rise. Over the last 12 months, there have been 7,783 ICE Air flights, compared to 4,845 in 2020 and 1,528 removal flights in the past 12 months. With an estimated average of 100 passengers per flight, this means that over the past 12 months, as many as 153,330 people could have been returned to Latin America, the Caribbean and a small number to Africa by air by the U.S.
The continuation of Title 42 has passed the debate on whether the health order is still relevant and justified. It is threatening a person's basic human right to seek refuge in the U.S. Furthermore, it bears life-threatening consequences to many who are coming to the U.S. border and are met with xenophobia and immediate removals.
Removal Flights, Lateral Flights, Domestic Shuffles:
In October 2022, there were 685 ICE Air flights, utilizing 28 different planes operated by the charter carriers IAero aka Swift, World Atlantic, GlobalX, and Gryphon Air. This number is up 21 flights from September and is above average for the past 6 months. 
The increase in October can be attributed to the decrease in the removal, connection, and return flights, which offset the increase in domestic flights of 35.  
Removal flights, meaning flights transporting people internationally and returning them to their home countries, were down 24 in October and down 48 from the past 6 months. Lateral flights surged to 115 from 83 in September; this is the highest month recorded since March 2021. Shuffle flights increased by 56 to a 34-month record 492 in October, driven by the increases in lateral flights. 
The countries from the Northern Triangle (Guatemala, Honduras, El Salvador) all continue to break records in the number of monthly removal flights, a trend that is both devastating and alarming. While these countries have been breaking records, there has been a decreasing trend of flights over the past few months. Flights to Guatemala (20), Honduras (22), and El Salvador (10) have been decreasing for at least the past three months while flights to Colombia (20) have just started to decrease in October.
Honduras
To Honduras, flights decreased for the 4th month in a row from 28 (September) to 22 (October), the lowest month since November 2021 (14). Over the last three months, encounters of Hondurans by CBP at the US southern border dropped significantly from 24,177 in June to 14,417 in September;  flights decreased by 17 from 39 in June to 22 in October. 
Combined with the three Mexican government deportation flights, Honduras received 25 return flights in October, down from 39 in August, returning an estimated 2,750 citizens by air.
Guatemala
ICE Air flights to Guatemala decreased for the 3rd month in a row to 20 in October. This is the lowest number of ICE Air flights to Guatemala since August of 2021 when there were 10 removal flights.Over the last four months, encounters of Guatemalans have dropped significantly from 24,648 in June to 15,331 in September; flights have decreased by 24 ( from 44 in June to 20 in October).
With the five Mexican government deportation flights to Guatemala added to the ICE flights, Guatemala received 25 flights returning around 3,000 citizens by air and 2,975 Guatemalans returned by land by Mexico, about 5,975 Guatemalans were returned to Guatemala by the US and Mexico in July.   
Colombia
ICE Air Flights to Colombia decreased by 2 (from 22 to 20 in October). None of these flights were coupled with flights to El Salvador like they were in both August and September. Although there was a T8 flight from Alexandria, LA to Medellin, all T42 flights arrived in Bogotá.
El Salvador
Flights to El Salvador decreased for the 3rd month in a row  (from 13 in September to 10 in October), which is the lowest number since April 2022 ( 8).  There were only 2 flights to El Salvador that were coupled with flights to other countries. There were 8 flights that went directly and only to El Salvador, compared to the 13 in September. 
Other destinations
Peru: With Peru now accepting T42 flights from the US,  they received 3 flights in September, typically every Friday. There was one Friday when there were not flights, and that was when Secretary Blinken was in Peru visiting the Peruvian foreign minister. Peru is categorized in the "other" category, so we can not know the exact number of encounters of Peruvians at the US southern border,  but the country ranks 5th in removal flights.
Brazil: flights decreased from 10 in August to 2 in each September and October. This is probably related to the decrease in encounters of Brazilians at the US southern border from 5,747 in August to 1,723 in September. 
Haiti: flights dropped to 0 in October for the first time since June 2021.
Other destinations for ICE Air flights this month were:
Dominican Republic (2 - one flight coupled with Haiti)
Nicaragua (2)
Ecuador (2)
Mexico (0)
Mexico Operated Removals
The number of flights decreased to 9 in October from 25 in September. There was also a decrease of deportation flights to all countries. Mexico added a second carrier, Viva Aerobus, for deportation flights. 
According to reports from Guatemala, land returns of Guatemalans by the government of Mexico are estimated down around 200 to about 3,000 persons. Returns of Hondurans in October appear to be lower at around 900, compared to 2,067 in September. 
Sources: Witness At the Border, Reuters
Immigration and Customs Enforcement: Increase in ICE's use of Ankle Monitors and Smartphones to Monitor Immigrants and Detention Numbers
Highlights from TRAC's Quick Fact tool:
Immigration and Customs Enforcement held 25,134 in ICE detention according to data current as of September 25, 2022.

16,664 out of 25,134—or 66.3%—held in ICE detention have no criminal record, according to data current as of September 25, 2022. Many more have only minor offenses, including traffic violations.

ICE relied on detention facilities in Texas to house the most people during FY 2022, according to data current as of September 19, 2022.

ICE arrested 6,586 and CBP arrested 18,195 of the 24,781 people booked into detention by ICE during August 2022.

South Texas ICE Processing Center in Pearsall, Texas held the largest number of ICE detainees so far in FY 2022, averaging 1,109 per day (as of September 2022).

ICE Alternatives to Detention (ATD) programs are currently monitoring 316,700 families and single individuals, according to data current as of September 24, 2022.

Harlingen's area office has the highest number in ICE's Alternatives to Detention (ATD) monitoring programs, according to data current as of September 24, 2022.
According to data released in September, the number of people that Immigration and Customs Enforcement's Alternative to Detention (ATD) program has surpassed 300,000 people for the first time, reaching 316,700. With the use of a smartphone app called SmartLINK, the ATD program is now monitoring 255,602 people, which has brought more attention to the program. 
After a low of 16,444 in July 2022, the use of GPS ankle monitors has increased drastically to a high of 41,000. That means that there have been over 25,000 immigrants added to the list of people with ankle monitors in just 2 months, with an average of over 400 people added each day. Although GPS ankle monitors are increasing there seems to be a decrease in telephonic reporting which now represents less than 20,000 cases. 
Source: TRAC at Syracuse University (Transactional Records Access Clearinghouse)
Temporary Protected Status (TPS) is legal limbo for nationals of 15 countries
Temporary Protected Status (TPS) is kind of a legal limbo for nationals of 15 different countries (currently). They were not admitted into the US with refugee status or humanitarian parole. They have not been granted political asylum. They were in the US as undocumented persons until they applied for TPS.  As TPS holders, they have no path to permanent legalization—no green card, no possibility for citizenship.  Every two years they have to re-apply to renew their TPS and a work permit.
 The secretary of U.S. Department of Homeland Security (DHS Secretary) has the authority to grant TPS to eligible foreign born individuals whom DHS deems are unable to return home safely due to conditions or circumstances preventing their country from adequately handling the return, such as armed conflict or environmental disaster. TPS has been a lifeline to hundreds of thousands of individuals in the U.S. for whom a return to their home country is unsafe or not possible.
 As long as a foreign-born person has TPS, they have certain protections that undocumented persons do not have. They cannot be detained by DHS. They cannot be deemed "removable" by DHS. They are eligible for employment authorization. Most of the half-million TPS holders living in the US reside mostly in California, Florida, Texas, New York, and Virginia.
 To be granted TPS protection, the person has to demonstrate that they have been here continuously in the US since a certain date. In other words, not all people from a given TPS country are allowed to get TPS protection. For Central Americans, they have to show that they have been here since 1999 (Hondurans and Nicaraguans, who fled after Hurricane Mitch) or 2001 (El Salvador, because of the earthquake that year). Most other TPS designations are more recent (2021 and 2022).
 Here is the list of nationals for whom TPS has been designated, ranked in order of when their TPS protection is scheduled to expire. The number in parentheses is the approximate number of persons of that nationality who hold TPS status.
2023
Yemen (1,355)
Somalia (370)
Ukraine (NA)
South Sudan (610)
Cameroon (NA)
2024
Venezuela (111,700)
Syria (6,448)
Burma (380)
El Salvador (193,940)
Haiti (42,890)
Honduras (58,625)
Nicaragua (3,130)
Nepal (9,355)
Sudan  (NA)
Afghanistan (NA)
 In addition to the 15 countries listed above, DHS has also approved TPS for Ethiopia. But the particulars of this designation (i.e., since what date an Ethiopian has to demonstrate they have been residing in the US, when TPS will start and end) have not been published as of November 30, 2022.
 As the date of TPS protection expiration approaches, the DHS Secretary has the authority to renew TPS for another 18 months. The more permanent (and just) fix would be for Congress to give permanent legal status and a pathway to citizenship for TPS holders. That is what migrant justice advocates are pushing for.
 Learn more about TPS at https://www.fwd.us/news/temporary-protected-status-tps-5-things-to-know/
At the Border: Recent Incidents at and around the US-Mexico Border 
This is a space where we share current incidents from the US southern border to show that these issues that we write about do, in fact, immediately affect people at the border and in detention, and the horrible things many migrants have to experience while seeking refuge in the U.S.
October 13, Colorado: "Melvin Calero Mendoza died in immigrant detention on October 13, 2022. He was the first immigrant to die in ICE custody since the current fiscal year (FY2023) began on October 1, 2022; the 45th immigrant to die in ICE Custody over the last five years. 
Melvin was from Nicaragua, and the father of two children. He came to the United States hoping to connect with family. Border Patrol picked up Melvin in El Paso in April this year and then transferred him to ICE two days later. ICE placed him in a Colorado detention facility on May 2. Had Melvin been from Honduras or Mexico he would have likely been immediately expelled under Title 42. ICE detained Melvin instead. Melvin had no criminal record, and had family in the United States. ICE had no reason to hold Melvin for this long (if at all). An immigration judge issued a bond on June 27, 2022 in Melvin's case. Melvin appealed the amount of the bond; the court denied his appeal."
Source: Quixote Center
Want to find out more about the conditions at the southern US border?
Nicaraguan migrants at the U.S. border – are they being "pushed" or "pulled"?
Investing in Women and Girls is Central to Addressing Root Causes of Migration from Guatemala
TAKE ACTION NOW
Now that you are up to date on the issues at and around the southern border of the U.S., here is what you can do to take action this week and act in solidarity with migrants and their families. (Thank you to the folks with NE Ohio Friends of Immigrants for providing some of these take action items.)
URGENT Take Action
1- Support Ohio Immigrant and Refugee Businesses this Holiday Season
The Ohio Immigrant Alliance put together a holiday gift guide to help people give ethical, impactful, and magical gifts this holiday season. From fair trade to faux eyelashes, there's something for everyone on your list. 
Do good, twice! There's something for everyone on the first-ever Ohio Immigrant Alliance Holiday Gift Guide. Please help us spread this list far and wide. Below are social posts as well as email copy and other tools to help write your own. Thanks!!!
Social media threads
Link for direct download, graphic with QR code
Email text/link
2-  Urge Congress to Support and Pass Permanent Pathways to Citizenship
for Undocumented Immigrants
On October 14, 2022, a federal judge in Texas, Judge Hanen, blocked the Biden administration's new DACA rule (which would have replaced the 2012 DACA memo) from going into effect on October 31, pending a final ruling. That effectively prevents approximately 400,000 immigrant youth from applying for temporary DACA protections. 
It is vital to urge our Members of Congress to immediately pass permanent solutions that provide a pathway to citizenship for all of our undocumented neighbors. Any immigration legislation should uphold the inherent dignity of all.
Go to https://cwsglobal.org/action-alerts/take-action-urge-congress-to-support-and-pass-permanant-pathways-to-citizenship-for-undocumented-immigrants/
Provide name, address, phone & email
Select "Send Email"
[Emails will be sent to your two U.S. senators and to US representative.]
3- Stop the illegal and immoral transportation of migrants by certain governors to other states and Washington, DC.
Sign a National Petition regarding the Unlawful Movement of Migrants
The US Department of Justice should investigate the governors of the states of Texas and Florida as to whether they have engaged or are engaging in kidnapping and/or human trafficking.  Governors, mayors, and city councils should put pressure on the Justice Department to investigate any states that send migrants across state lines without permission, knowledge, or consent faith and commend and support the faith communities, mutual aid groups and others serving migrants. 
Go to https://forusa.org/national-petition-regarding-the-unlawful-movement-of-migrants/
Provide name, email, address
Select "Sign Now"
Thank you for reading IRTF's Migrant Justice Newsletter!
Click here to read newsletters from previous months
Date:
Wednesday, November 30, 2022