This year, an estimated 80,000 people fled violence in El Salvador, Guatemala and Honduras – mostly families and unaccompanied children – to request asylum, a 658% increase since 2011. In El Salvador, families are fleeing at the same rate as they did during the country's 12-year civil war in which 1 million were forcibly displaced and 75,000 more lost their lives. The influx has overwhelmed our immigration system and attorneys, like me, who defend the rights of asylum-seekers fleeing a region marred by decades of violence and injustice.  Now, IRTF's solidarity with oppressed peoples of Central America and working together toward nonviolent systemic change is needed more than ever.
"If there is no friendship with them and no sharing of the life of the poor, then there is no authentic commitment to liberation, because love exists only among equals." 
- Gustavo Gutierrez


I was first introduced to IRTF at the 2003 Social Justice Teach-In as a sophomore at Magnificat High School. The Social Justice Teach-In opened my eyes to injustice and challenged me –as it does all of us – to take the leap from being an inspired bystander to taking part in a dynamic movement for justice in our world. In college, inspired by IRTF, I traveled to El Salvador for a semester-long immersion program with Casa de La Solidaridad. Fittingly named "House of Solidarity," the program invited me to: "fall in love, have your heart broken, and go home ruined for life," while immersed in an experience of mutual accompaniment with those living in poverty and overwhelming injustice.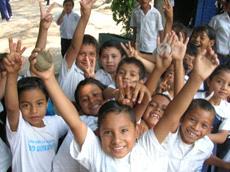 It wasn't until late in the semester, while living in the gang-ridden barrio of El Cobanal, that it clicked.  During the months of conversations, while side stepping streams of sewage trickling through dirt-floored homes, friendships grew. Inside jokes were created, tears shed, dreams shared and the dividing walls came down. I forgot myself and fell in love with the community I was so lovingly welcomed into as an equal. I shared outrage at nightly gang shootings and mutilated bodies in the streets and wept with the families. My friends deserve better than this. I saw a mother, sick with fear over the health of an ailing child, and saw my own standing there. She deserves better than this. Injustice feels so much more sinister when it hurts the ones you love. Cue the heartbreak. Something had changed, and it was me.
When my semester "with the poor" was over, I felt sick. I was free to go back to safety while my friends stayed behind with the fear, and the violence, and the poverty. I loved them, and they deserved so much better than this. We can do so much better. And there it was. Ruined for life.
My time in El Salvador was brutal, but it was also loving, transformative, and freeing. I walked away with hardened convictions about the undeniable dignity of the human person and that we are all created equal. I learned the power of community and that a small group of dedicated people can transform the world around us – a community like IRTF.
IRTF continues to walk the walk. Founded as a response to the 1980's humanitarian crisis caused by brutal civil war in Salvador, Nicaragua, Guatemala and throughout the region, IRTF's work has adapted to respond to the ever-changing calls for justice and creative nonviolent solutions to systemic oppression. This summer marked my 6th and final year on IRTF's Board of Trustees, where I worked alongside focused, dedicated, and inspirational staff, volunteers, and fellow board members and  witnessed our movement grow. I feel prouder than ever to be part of IRTF's mission and fantastic community of supporters, and you should too!
IRTF is more than a human rights organization, and the effects of our work are not only felt in Latin America. Please, continue walking with us as we carry on the legacy of the martyrs, through education, advocacy, and organizing for peace and human rights.
For a future of peace,
Katie Russell                                                             
Co-Chair, IRTF Board 2010-2016
Topic: