Friday, March 24, 2017

to

Sunday, March 26, 2017
Join us on our caravan down to Columbus on Sunday March 26th for the Nationwide convergence! Keep watching for updates and more info.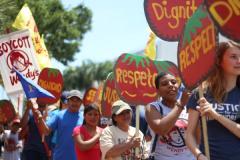 Friday, March 24,National Day of Fasting
Dublin, OH
4:00pm 6:00pm
Wendy's Headquarters 3:00 PM: Begin arriving at vigil site (Wendy's HQ) / Reunir para vigilia en la sede de Wendy's
Saturday, March 25, Columbus Conference
10:30am 11:30am
Ohio State University 
More details coming soon!
Sunday, March 26, Columbus, OH
12:30pm 4:00pm
TBD Columbus, OH 
12:30 PM - Begin gathering for parade and march (Location TBD) / Reunir para el desfile
2:00 PM - Parade and march / Desfile y marcha
WHY BOYCOTT WENDY'S?
1) WENDY'S ABANDONED THE FLORIDA TOMATO INDUSTRY
Wendy's has not only refused to join the Fair Food Program (FFP), but has stopped buying tomatoes from Florida since the implementation of the FFP there. Rather than support an industry setting new standards for human rights, Wendy's took its tomato purchases to Mexico, where workers continue to confront wage theft, sexual harassment, child labor, and even slavery without access to protections.
2) WENDY'S HAS CHOSEN PUBLIC RELATIONS OVER HUMAN RIGHTS
Instead of joining the FFP and its widely-acclaimed, uniquely successful worker-driven model of social responsibility, Wendy's released a new supplier code of conduct that contains no effective mechanisms for worker participation or enforcement. Wendy's new code represents the very worst of the traditional corporate approach to social responsibility driven by public relations rather than human rights. 
3) WENDY'S IS PROFITING FROM FARMWORKER POVERTY
Wendy's stands alone as the last of the five major fast food corporations in the country to refuse to join the FFP: McDonald's, Burger King, Yum!Brands and Subway are all doing the right thing and participating in the Program. By refusing to join, Wendy's is deriving a very real cost advantage over its competitors, while continuing to provide an alternative market for less reputable growers. 
Sign the Petition to #BoycottWendys  https://www.change.org/p/wendy-s-we-re-boycotting-you-until-you-support-human-rights-for-farmworkers-boycottwendys