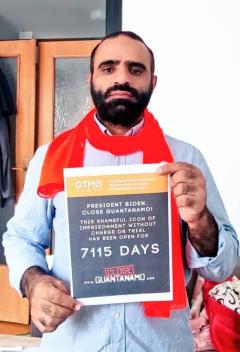 "Guantanamo 2.0": Injustice continues after release from Guantánamo
The injustice of Guantánamo continues after men are released from the prison. Many former prisoners are released to third countries when their home countries are considered dangerous or unstable. Many carry physical and mental impacts from Guantánamo. These men can lack legal status from the countries where they are sent. They often cannot work or travel because of the restrictions of resettlement. They are also monitored by the countries where they are sent. They can experience social isolation and economic hardship because of the stigma of being former Guantánamo prisoners and the stigma of being labeled terrorists.
One former detainee, the Yemeni citizen Mansoor Adayfi, described his life after release as "Guantánamo 2.0."  After 14 years at Guantánamo without charge or trial, Adayfi was released to Serbia in 2016. Like other Yemenis released from Guantánamo, he could not be repatriated to Yemen because the US government considers it a security risk. Adayfi went to Serbia against his will and started a hunger strike after his release to protest his conditions and asked to be transferred to an Arab country. He learned how to hunger strike in Guantánamo as a means of protest.
As The Guardian wrote about Adayfi in August 2021, his life has been successful in many ways as an advocate for human rights. He wrote a memoir, won a Sundance fellowship, and starred in a podcast. "But in Serbia, where he lives, he is still considered a terrorist, and his ambitions have been thwarted. He has found it hard to make friends because people fear associating with him; a tabloid ran a two-page spread calling him a terrorist, and his acquaintances have undergone interrogation just for knowing him. He can't get a job. He can't leave the country, or drive. He has no healthcare. His relationship with a woman he loved ended after he was denied a travel document to visit her."
In 2017, Frontline aired a documentary about Adayfi and Guantánamo. Immediately after their first interview with Adayfi, reporters were stopped and questioned by the police. The next day, Serbian men forced their way into Adayfi's apartment and searched it. Later, Adayfi called a reporter to show him hidden cameras he found in his apartment. In the interview, Adayfi said he felt like he was still in prison.
"When they brought me to Serbia they make my life worse," he said, adding, "They totally kill my dreams. It's making my life worse. … Not because I like Guantánamo, but my life become worse here. I feel I am in another jail." - Mansoor Adayfi in a 2017 interview with journalist Andy Worthington
Adayfi was able to attend university more recently in Serbia. His thesis was about rehabilitation and reintegration of former Guantánamo detainees into social life and the labor market. He conducted research for five years and interviewed around 150 men. As he stated in an interview with Democracy Now, the resettlement agreement when men are released from Guantánamo includes rehabilitation and reintegration, but this often does not happen. The United States is responsible for the unjust detention of these men and the lack of support when they are released. The United States government has a responsibility to uphold rehabilitation and reintegration after release from Guantánamo.
Things you can do:
Connect with

Witness Against Torture

(WAT). WAT is a volunteer group that organizes to shut down Guantanamo, end indefinite detention and torture and call out Islamaphobia. As part of its organizing, WAT supports survivors of Guantanamo. 

Learn about and donate to the

Guantanamo Survivors Fund

. The Fund seeks to provide immediate short-term support for Survivors' most urgent needs such as medical care, rent, language classes, tuition and job training. Groups that comprise the Guantanamo Survivors Fund also work to support survivors of Guantanamo. 
Learn more about Guantanamo. Mansoor Adayfi's memoir is Don't Forget Us Here: Lost and Found at Guantanamo published in 2021. 
Sources:
https://www.theguardian.com/us-news/2022/jan/09/guantanamo-resettled-no-legal-status
https://www.theguardian.com/us-news/2021/aug/16/guantanamo-detainee-mansoor-adayfi 
https://www.nogitmos.org/civicrm/contribute/transact?reset=1&id=6
https://www.andyworthington.co.uk/2017/03/05/life-after-guantanamo-yemeni-released-in-serbia-struggles-to-cope-with-loneliness-and-harassment/ 
https://www.closeguantanamo.org/Articles/300-Fears-for-Guantanamo-Prisoner-Resettled-in-Serbia-Where-the-Government-Wants-to-Get-Rid-of-Him 
Democracy Now hour with Adayfi
https://www.youtube.com/watch?v=riUg6LQCeEY
Democracy Now interview with Adayfi
https://www.youtube.com/watch?v=pojzt9dUjp8 
Frontline documentary
https://www.pbs.org/video/frontline-out-gitmoforever-prison/