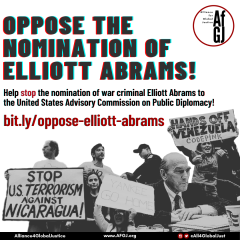 The InterReligious Task Force on Central America (IRTF) was founded in 1981 by people of faith and conscience in Ohio in response to the horrific violence inflicted on the people of Central America , much of it sponsored by the US military.  That violence hit us directly here in Cleveland, Ohio, in December 1980 when two of our Catholic Mission Team members were brutally assassinated by Salvadoran National Guardsmen (some of whom had been trained by the US).
Another deadly incident connected to US military training was the El Mozote massacre of December 1981 when the Salvadoran Army's Atlácatl Battalion (which was created at the infamous US Army's School of Americas) killed more than 800 civilians (including infant children) in the tiny village in northern El Salvador. Few survivors remained to tell the story.
When asked in 1994 about the U.S.'s record on El Salvador, Elliott Abrams, who served under President Reagan in the US State Department as both Assistant Secretary of Human Rights and Assistant Secretary of Inter-American Affairs,  called it a "fabulous achievement." During his tenure at the State Department, Abrams was also a defender of the Ríos Montt government in Guatemala, a regime so brutal that its actions — mass murder, rape, and torture of the Indigenous Ixil Mayan people — were later classified as genocide by the United Nations.
Now the Biden Administration is sending to the US Senate Foreign Relations Committee the nomination of Elliott Abrams to join the State Department Bipartisan Advisory Commission on Public Diplomacy.
Elliott Abrams does not belong in another U.S. administration. We strongly urge you to oppose the nomination.
TAKE ACTION
1) Click here to see if your US senator is a member of the Senate Foreign Relations Committee. Urge them to oppose the nomination of Elliott Abrams.
2) Send a message to your US senator even if they are not a member of the Senate Foreign Relations Committee. Tell them that if this comes up for a vote in the full US Senate, you urge them to oppose the nomination of Elliott Abrams. You can find contact info for your US senators at https://www.senate.gov/
3) Send a message to your US congressperson.  Tell them that if this comes up for a vote in the full US House, you urge them to oppose the nomination of Elliott Abrams. Take action at https://afgj.salsalabs.org/oppose-elliott-abrams-nomination/index.html