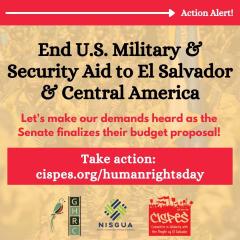 Monday, December 12, 2022
Dear NISGUA Family,
Please call your Senators today to demand an end to U.S. military aid to Guatemala and Central America! The peoples of Guatemala, El Salvador and Honduras are increasingly experiencing violations of their rights at the hands of the state. All three governments receive millions of dollars annually in police and military training and equipment from the United States in the name of fighting the U.S. War on Drugs and the (unofficial) U.S. War on Migrants.
Thanks to our organizing, the House Appropriations Committee included some oversight mechanisms on police and military training in Central America in their budget proposal. But the Senate proposal has no such provisions (and even rolls back some limitations on military assistance that have already been established!) So, we need your help to keep up the pressure!