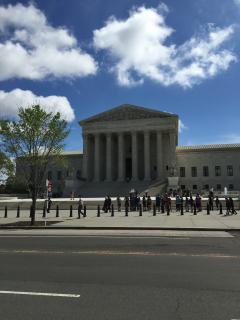 March 26, 2020
The Honorable William P. Barr, Attorney General, U.S. Department of Justice
James McHenry, Director, Executive Office for Immigration Review
Submitted via email
RE: THE DOJ MUST IMMEDIATELY CLOSE ALL IMMIGRATION COURTS DURING THE COVID-19 PANDEMIC
Dear Attorney General Barr and Director McHenry,
Following previous calls by the National Association of Immigration Judges (NAIJ), the American Federation of Government Employees (AFGE) Local 511 (ICE Professionals Union), and the American Immigration Lawyers Association (AILA) for the temporary closure of all immigration courts, we, the undersigned international, national, state, and local immigration, civil rights, faith-based, government accountability, and labor organizations urge the U.S. Department of Justice (DOJ) to immediately close all 68 Immigration Courts operated by the Executive Office for Immigration Review (EOIR) in adherence with current public health protocols regarding the COVID-19 virus.
On the evening of March 17, EOIR postponed all non-detained hearings and recently postponed all of the Migrant Protection Protocol hearings (MPP) scheduled through April 22, 2020. However, more aggressive action is needed. While these policies are a step in the right direction, they fall far short of the required action called for by this pandemic emergency. The detained courts must also be closed to in-person hearings in order to minimize the spread of the virus, slow the rate of new infections, and to avoid overwhelming local resources.
Given the particular vulnerability of respondents in detained settings, the use of telework, which has been advocated by the Administration, can and should be quickly put in place. Immigration Judges stand ready and able to work to ensure priority matters, including detained bond matters, are addressed using technological tools. DOJ should permit all detained respondents to immediately receive telephonic bond redetermination hearings with teleworking judges and allow supporting documents to be faxed and emailed to a designated point of contact. When possible, ICE OPLA should stipulate to bond in written motions so it is not necessary to hold hearings.
The urgency for immediate, decisive action in this matter cannot be overstated. Every link in the chain that brings individuals to the court - from the use of public transportation, to security lines, crowded elevators, cramped cubicle spaces of court staff, packed waiting room facilities in the courthouses, and inadequate sanitizing resources at the courts - place lives at risk.
Every state and the District of Columbia have declared a state of emergency giving government leaders the opportunity to implement bold and unprecedented measures to slow and eventually eliminate the spread of the virus. Some officials are releasing prisoners, allowing them to shelter in place at home. Cities, county, and state governments have moved swiftly to implement stay at home orders to ensure the protection of community members from this highly communicable virus. These measures include the scaling back of mass transit conveyances to most urban centers where the immigration courts are located, creating significant logistical problems for anyone needing to access the courts. On March 21, the Department of Homeland Security (DHS) announced that it will now require all legal visitors to provide and wear personal protective equipment (PPE) (disposable vinyl gloves, N-95 or surgical masks, and eye protection) in order to enter any detention facility, despite the nationwide shortage of PPE.
Yet EOIR continues to operate courts in a business-as-usual manner, placing court personnel, litigants, and all community members in harm's way. To make matters worse, DOJ and EOIR decision-making has been opaque, with inadequate information being released, causing confusion and leading to litigants showing up at hearings that are cancelled without notice.
DOJ's current response to the COVID-19 pandemic and its spread is frighteningly disconnected from the realities of our communities, and the advice of local leaders and scientific experts. DOJ must immediately implement the temporary closure all immigration courts. Failing to take this action now will exacerbate a once-in-a-century public health crisis and lead to a greater loss of life.
If you have any questions, please do not hesitate to contact Laura Lynch, Senior Policy Counsel, AILA (llynch@aila.org), Judge Ashley Tabaddor, President, NAIJ (ashleytabaddor@gmail.com), or Fanny Behar-Ostrow, President, AFGE Local 511 (fbehar1@gmail.com).
Sincerely,
Advocates for Basic Legal Equality, Inc.
America's Voice
American Federation of Government Employees (AFGE) Local 511
American Immigration Council
American Immigration Lawyers Association (AILA)
Americans for Immigrant Justice, Inc.
Amnesty International USA
Arizona Coalition to End Sexual and Domestic Violence
Asian Pacific American Labor Alliance, AFL-CIO
Asian Pacific Institute on Gender-Based Violence
ASISTA
Association of Deportation Defense Attorneys, Inc.
Ayuda
Capital Area Immigrants' Rights (CAIR) Coalition
Catholic Legal Immigration Network, Inc.
Center for Gender & Refugee Studies
Center for Victims of Torture
Central American Resource Center
Coalition for Humane Immigrant Rights (CHIRLA)
Congregation of Our Lady of Charity of the Good Shepherd, U.S. Provinces
End Domestic Abuse Wisconsin
Evangelical Lutheran Church in America
Federal Bar Association Immigration Law Section
*Disclaimer, this is the position of the Immigration Law Section and not the Federal Bar Association as a whole.
Freedom Network USA
Government Accountability Project
Her Justice
HIAS
Human Rights First
Human Rights Initiative of North Texas
Illinois Coalition Against Domestic Violence
Immigrant Families Together
Immigration Equality
International Federation of Professional and Technical Engineers
International Rescue Committee
InterReligious Task Force on Central America
Just Neighbors
Justice for Our Neighbors-Michigan
Las America's Immigrant Advocacy Center
Latin America Working Group
Leadership Conference of Women Religious
League of United Latin American Citizens
Legal Aid Justice Center
Montana Coalition Against Domestic and Sexual Violence
National Advocacy Center of the Sisters of the Good Shepherd
National Association of Immigration Judges
National Council of Jewish Women
National Justice for Our Neighbors
National Latina Institute for Reproductive Justice
Nebraska Coalition to End Sexual and Domestic Violence
Neighbors Immigration Clinic
NETWORK Lobby for Catholic Social Justice
New York Immigration Coalition
New York Justice for Our Neighbors
Northern Illinois Justice for Our Neighbors
Ohio Immigrant Alliance
Pax Christi USA
Restoration Immigration Legal Aid
Rian Immigrant Center
Round Table of Former Immigration Judges
Santa Fe Dreamers Project
Sisters of Mercy of the Americas Justice Team
South Texas Human Rights Center
Tennessee Justice for Our Neighbors
The Florence Immigrant & Refugee Rights Project
The Leadership Conference on Civil and Human Rights
Ujima Inc: The National Center on Violence Against Women in the Black Community
Vermont Network Against Domestic and Sexual Violence
Virginia Coalition for Immigrant Rights
Virginia Coalition of Latino Organizations
Virginia Interfaith Center for Public Policy
Washington Office on Latin America
Washington State Coalition Against Domestic Violence
Wellspring United Church of Christ
Young Center for Immigrant Children's Rights