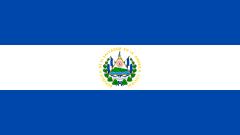 Human Rights Defenders To Sue the Salvadoran State
first published April 27, by teleSUR
Humanitarian Legal Aid (SJH) began to collect information to establish a collective lawsuit against the Salvadoran state, which must take responsibility for the people who have died in prisons, or after being released, during President Jayib Bukele's emergency regime. 
This Salvadoran NGO will present its legal recourse to the Inter-American Human Rights System, where it will request moral and material reparation measures for the affected citizens.
The plaintiffs have as objectives "to clear the name of the innocent people" and to demand that "the Salvadoran State ask for forgiveness," said Ingrid Escobar, the SJH Director.
"According to criminologists, investigators, and lawyers, only 8 percent of the people who died belonged to gangs. The rest were innocent citizens who were stigmatized as terrorists," she added.
Through social networks, the SJH published a form so that people can fill it out confidentially and provide information about the victims' data.
This NGO, which provides advice to the families of the people arbitrarily detained during the emergency regime, explained that the collective lawsuit will first be filed with the Attorney General's Office and the Human Rights Ombudsman's Office (PDDH).
If these Salvadoran institutions do not respond within a reasonable time, the SJH will present the collective lawsuit before the Inter-American Commission on Human Rights (IACHR).