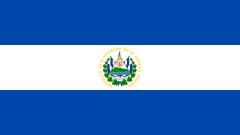 ICE arrests a retired Salvadoran military officer accused of involvement in El Mozote massacre
More than 1,000 adults and children were killed there in 1981 by the military searching for an alleged training camp.
Article by Carmen Sesin, first published by NBC News
The U.S. has arrested a Salvadoran retired military officer for his alleged involvement in the El Mozote massacre, one of the most widely known killings in recent Latin American history.
Roberto Antonio Garay Saravia, a retired officer from the Salvadoran Armed Forces, was arrested in New Jersey on Tuesday by Immigration and Customs Enforcement and Removal Operations officers with the assistance of Homeland Security Investigations agents. 
He was arrested on charges of assisting or otherwise participating in extrajudicial killings and willfully misrepresenting this material fact in his immigration application, the Department of Homeland Security said in a news release. 
"Individuals who have committed atrocities overseas will not find safe haven in the United States," DHS Deputy Secretary John K. Tien stated in the press release.
The investigation was initiated and developed by Homeland Security Investigations' Human Rights Violators and War Crimes Center.
In late 1981, U.S.-trained Salvadoran army units attacked civilians in the town of El Mozote. At least 1,000 people, half of them children, were killed.
The Salvadoran army was fighting leftist guerrillas of the Farabundo Martí National Liberation Front.
When President Ronald Reagan took office earlier that year, he increased military aid and sent Special Forces instructors to the Central American country. 
According to the press release, Garay Saravia was a section commander in a specialized counterinsurgency unit known as the Atlácatl Battalion from 1981 to 1985. It goes on to say the unit was directly implicated in numerous atrocities, including the El Mozote massacre.
Garay Saravia was also deployed in three other operations that resulted in the massacres of hundreds of noncombatant civilians.