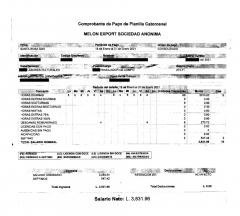 Image courtesy of FESTAGRO
Thanks to FESTAGRO for this news article.
Según comprobantes de pago de la actual temporada de melón en las empresas de Fyffes en Honduras (SURAGROH/MelonExport) no se esta pagando el salario mínimo decretado para el sector agrícola en el año 2020, a empresas con 151 trabajadores/as en adelante que es Lps. 8,210.4 (USD 342) al mes.
Como se puede apreciar en la imagen, en la cual ocultamos datos claves por seguridad de la persona; el salario pagado en una quincena por parte de la empresa es Lps. 3,831.68 (USD 159.65) sumando esta cantidad en un mes, se paga a una trabajadora Lps. 7,663.36 (USD 319. 30), con esto le faltan Lps. 547.04 (USD 22.79) para completar el salario.
Si bien es cierto que el Salario Mínimo no cubre las necesidades básicas de una trabajadora o trabajador, es decretado legalmente y las empresas están obligadas a cumplir con el pago integro de este al mes, considerando los 30 días de trabajo, Fyffes solo paga 28 días, robando 2 días de trabajo a los y las trabajadoras.
Por estas y por otra larga lista de violaciones laborales, Fyffes (Sol Group) ha sido sancionada por diferentes organismos a nivel internacional que han enviado auditores calificados que ratifican tales violaciones.
A pesar de contar con estas sanciones, no se ve un interés de mejorar las condiciones de los y las trabajadoras.