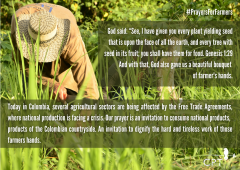 Friday, November 20, 2020
Photo credit: Marcos Knoblauch (ECAP Colombia)
Equipo Cristiano de Acción por la Paz (ECAP, Christian Peacemaker Teams)
God said: "See, I have given you every plant yielding seed that is upon the face of all the earth, and every tree with seed in its fruit; you shall have them for food." Genesis 1:29

And with that, God also gave us a beautiful bouquet of farmers' hands.
Today in Colombia, several agricultural sectors are being affected by the Free Trade Agreements, where national production is facing a crisis. Our prayer is an invitation to consume national products, products of the Colombian countryside. An invitation to dignify the hard and tireless work of those farmers hands.
--------------------
This is part of CPT Colombia's new series #OracionesCampesinas or Prayers for Farmers.
Do you have a prayer you would like to share with us? Send it here.
Mission: Christian Peacemaker Teams: Building partnerships to transform violence and oppression. Vision: A world of communities that together embrace the diversity of the human family and live justly and peaceably with all creation. Values: Christian Peacemaker Teams is committed to work and relationships that: Honor and reflect the presence of faith and spirituality; Strengthen grassroots initiatives; Transform structures of domination and oppression; Embody creative non-violence and liberating love.