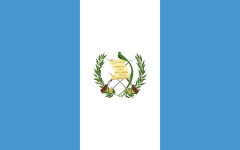 Four-Year Sentence of Anti-Corruption Leader Deals a Blow to Guatemalan Democracy
Article by Carolina Jiménez Sandoval and Isabel Carlota Roby, first published on Elfaro 25, May 9. 
[Also see the IRTF RRN letter on behalf of Virginia Laparra: https://www.irtfcleveland.org/sites/default/files/rrn/2022_12_22_lasumma...
At 10 p.m. on April 19, we received a text message from Claudia González —the leading attorney representing Virginia Laparra— confirming that we had been authorized to visit Virginia at the Matamoros military prison the following day. Her text included a warning: "Don't forget to wear a skirt or you won't be allowed in."
Over a year has passed since Guatemalan public prosecutor Virginia Laparra was arbitrarily detained after filing administrative complaints against Judge Lesther Castellanos alleging acts of corruption within the Judiciary. It is no coincidence that she was initially held alongside four other prosecutors and anti-corruption lawyers — all of them female. Her four-year sentence was reaffirmed today, May 9.
Virginia's detention and subsequent conviction in an irregular trial reflect a broader and disquieting trend of weaponizing the justice system against human rights defenders, journalists, and justice officials themselves under the administration of Alejandro Giammattei. As many as 35 justice operators from Guatemala have fled the country under this and previous governments. 17 of them are living in exile in the United States.
That this should take place ahead of the country's presidential elections, the first round of which is to be held in June, is of even graver concern.
On April 20, as representatives of the Washington Office on Latin America (WOLA) and Robert F. Kennedy Human Rights we had the chance to visit Virginia who has been charged with the alleged "abuse of authority" and "violation of the duty of loyalty."
The misogynistic treatment we received as female visitors to the prison was reflective of the outdated and discriminatory structures that led to Virginia's detention.
On arrival at the Matamoros prison, located in the outskirts of Guatemala City, we were warmly greeted by Claudia González, Virginia's lawyer who has recently been awarded the 2023 Lawyers for Lawyers Award.   
As a former prosecutor of the UN backed International Commission against Impunity in Guatemala (CICIG), she is now representing nine lawyers, who are currently being criminalized for their work in high profile anti-corruption cases. Many of them are her former colleagues. 
All of them were targeted and criminalized for their valiant efforts to combat impunity and corruption, and for daring to challenge the entrenched power structures of the country's economic and political elite.
Claudia herself faces the risk of arrest, physical harm, intimidation and persecution daily, yet bravely continues her work in order to protect human rights and the rule of law. 
After our documents and bags were checked, we were granted access through a black gate leading to a small patio with plants, tables and chairs, some sunlight filtered through cracks in the ceilings. Despite the grim circumstances, Virginia walked towards us with a warm smile, we hugged and sat down at one of the tables.
An RFKHR delegation led by Kerry Kennedy had last seen Virginia 14 months ago when she was being held in pre-trial detention at the Mariscal Zavala Prison. Since then, she was transferred to a military facility, was convicted to four years in prison, and is currently under investigation once again, facing further criminal charges for her efforts to combat corruption and fulfill her responsibilities as the former chief prosecutor of Guatemala's Special Prosecutor's Office Against Impunity (FECI) in the municipality of Quetzaltenango. The handling of this second case is being kept confidential by the decision of the court.
During our two-hour conversation with Virginia just a few weeks ago, we asked her how she was. "I am still in prison," was her answer.
She was moved to tears as she told us that she has only seen her daughters —aged 11 and 14— once or twice a month. Virginia has also undergone recent surgery and was concerned about her health. She was not allowed to choose her own doctor and the state has not provided her with the necessary medication. This has been documented by reputable human rights organizations such as WOLA, RFKHR, the New York Bar Association, and Human Rights Watch. 
Virginia is known for her work investigating corruption and human rights abuses in Guatemala, and her detention has been met with widespread condemnation from civil society groups and international organizations. Amnesty International recently designated her a prisoner of conscience. In a country with a long history of corruption and impunity, the work of prosecutors like her is crucial for holding powerful individuals accountable and ensuring that the rule of law is upheld.
Following the Senate Foreign Relations Committee's recent call for her release, the international community must continue to support efforts to strengthen Guatemala's justice system and ensure that prosecutors are able to carry out their work without fear of retaliation or harassment.
Last but not least, we must speak out on today's doubling-down of the sentence against Virginia Laparra, which proves that this is not about legal strategy but about politics, with a courageous lawyer being used as a pawn.