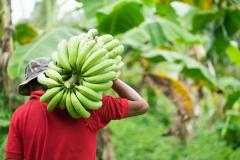 Tuesday, February 13, 2018
Feb 13 2018
Source: FreshFruitPortal  https://www.freshfruitportal.com  [edited]
A strike by Chiquita workers in Honduras over alleged changes to the company's health benefits is still ongoing, despite reports two weeks ago that an agreement had nearly been reached.
Website El Nuevo Diario reported that 2,800 workers reached day 45 of their strike on the weekend, having begun in late December.
The situation has resulted in banana exports being US$30 million lower than expected, according to National Banana Producers' Association (Aprobana) president Héctor Castro.
The protest includes 10 plantations in the areas of Cortés and Yoro, where the tropical fruit is grown over 13,500 hectares an exported predominantly to the U.S.
The workers have reportedly received medical assistance in the La Lima municipal hospital, which was close to the banana farms. But they said that under the changes they would have to be seen at the San Pedro Sula hospital, which is further away and has a lower quality of service.
Despite the mediation of Honduras' Minister for Work and Social Security Carlos Madero, the parties have still not been able to come to an agreement over the issue, the story reported.
On January 31, it was reported by the newspaper La Tribuna that Chiquita Brands was close to reaching a deal with the union. The story reported the multinational was threatening to leave the country, which would lead to the loss of 4,000 jobs. 
Madero however indicated the dispute would not lead to such an outcome.
"We see they already have an agreement that is sufficiently large for them to return to work," he was quoted as saying, adding dialogue had positive effects for both sides under a partial agreement over hospital attention for workers.
A representative of Finca Tropical, one of the company's Honduran suppliers [growers], told Fresh Fruit Portal his operations hadn't been affected by the Chiquita worker strike which was quite significant and had been going on for weeks.
"It doesn't affect our activity, but we are looking for other customers," he said.
He said his farm, producing bananas on 240 hectares of land, was locked into a contract with Chiquita until 2019 but he would be seeking out alternative buyers elsewhere during Fruit Logistica [fresh fruit trade show] in Berlin February 7-9.
We asked him why he wished to exit the contract with Chiquita.
"It's because Chiquita is not a good customer for Honduran growers because they pay very low prices compared to prices from other countries. The specifications are very difficult to meet so they reject a lot of fruit," Castro claimed.
"Also, they only pay us once a month and that obliges us to pay our employees once a month. Before they used to pay us weekly."
The general strike adds to a broader weather problem that has been affecting the Honduran banana industry since November and Castro expects will last until March.
"It's much worse (compared to other years) because it's extended for many more weeks. It's more intense because it's been below 20°C (68°F) and here normally it's at 30°C (86°F)," he said.
"From 20°C it's a tremendous problem. The fruit is very sensitive.
He added the cold weather meant banana bunches were generally lighter, leading to lower volumes and pushing up production costs per box. Overall, he estimated the weather conditions had cut production by around 30%.  
Banana exports from Honduras reportedly generate around US$500 million per year.