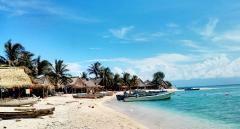 Wednesday, August 5, 2020
 [photo from Wikimedia Commons by Dennis García, Cayo Chachahuate]
by Jackie McVicar, August 5, 2020, America Magazine
"They want us to be gone. This is not an isolated event but part of a plan to destroy Indigenous peoples. But we deserve another destiny. Honduras deserves another destiny." –Miriam Miranda, general coordinator of the Black Fraternal Organization of Honduras (OFRANEH), 
Just before dawn on July 18 in Triunfo de la Cruz, a fishing village on the Caribbean coast of Honduras, a dozen heavily armed men wearing police uniforms pulled five young men from their homes at gunpoint.
Two weeks later, there are still no answers about the whereabouts of the missing men, and the only suspect detained by police has reportedly been released. Four of the young men are Garifuna, an indigenous and Afro-descendant group that is a significant presence in this part of Honduras.
"Their families are distraught; there are no answers. Nothing," said Francis Lopez, a Garifuna resident of Triunfo de la Cruz. "We're indignant. But we keep struggling. Every night, we keep up the vigil."
A member of the Triunfo de la Cruz community council, Ms. Lopez worked closely with one of the abducted men, Alberth Snider Centeno Thomas, 27, the president of the community board and the father of four. According to press reports, he had previously reported threats linked to his role defending the territorial rights of the Garifuna community.
Even before the abductions, children in the village had been traumatized," said José Armando Guzman, a Garifuna community spokesperson, during a virtual press conference on July 28. "When they see the police, they think that they are coming to take them from their homes." Mr. Guzman himself has faced violence and malicious prosecution by hotel developers and Honduran officials before charges against him were dropped.
"If they thought it was going to be easy to grab these lands, the little they have left us, we won't allow it," he said. The state has publicly claimed that Garifuna people are not Honduran and disputed the legitimacy of their territorial claims, but records show they have lived in Honduras since 1797.
The Garifuna people were exiled by British authorities in the 18th century from the Caribbean island of Saint Vincent to Roatan Island, now part of Honduras. In 1997, the Honduran Congress declared April 12 Black Honduran Day in commemoration of their arrival in the country 200 years earlier.
Garifuna territory stretches along pristine Caribbean beaches and includes fertile agricultural lands that have become of interest to international tourism developers and palm oil companies.
Garifuna villages along the north coast of Honduras have set up roadblocks to demand answers about the enforced disappearances. "You took them alive, we want them alive!" protesters shouted. It is a cry that has moved members of the Garifuna diaspora, frustrated by the treatment of their families back home, into action.
According to Yessica Trinidad, a Black feminist and director of the Network of Women Human Rights Defenders in Honduras, 19 Garifuna people were murdered in Honduras last year, including nine women and several elders. She believes the continuing attacks against Garifuna people in Honduras are not isolated but represent a pattern of systematic oppression.
"There's so much hate," she said. "So much rejection of what it means to be indigenous. So much contempt."
That racism and a history of violence against human rights and environmental defenders in Honduras make the Garifuna people a vulnerable target.
In 2014, a series of violent evictions of Garifuna from their ancestral territories led by police saw locals injured. The dislocations helped clear the path for Hilton's Indura Beach and Golf Resort, a state-promoted tourism project that was pressed on the Garifuna community with promises of educational improvements and a better life.
On June 19, the Garifuna leader Antonio Bernandez, a key witness in an international legal case that Garifuna people launched and won against the Honduran state, was murdered.
"There have always been threats because of the legal case we've won," said Ms. Lopez. Addressing such threats, she said, ought to be the responsibility of the government. Instead many suspect the government may have a hand in generating them.
In October 2015, the Inter-American Court for Human Rights found the Honduran state guilty of violating collective property rights, failing to ensure judicial protection and violating the Garifuna people's right to free, prior and informed consent regarding the large scale economic projects approved in their territories.
Over the course of decades, these projects have led to land grabs and a loss of farmland that the Garifuna people had used for subsistence farming. The court ordered the Honduran government to compensate the community of Triunfo de la Cruz for the ancestral lands that had been lost, but close to five years later, it has not complied and economic development projects continue to proliferate in Garifuna territories.
"The state not only treats the judgment with contempt but also the life of the Garifuna people," said Miriam Miranda during the press conference. Ms. Miranda is the internationally recognized general coordinator of the Black Fraternal Organization of Honduras (OFRANEH), which some of the disappeared men belong to. "Powerful economic actors ask, 'If the state doesn't comply, why should we?'"
On July 29, Global Witness published a report that called Honduras the most dangerous country per capita for human rights and environmental defenders in 2019, noting that businesses, financiers and the Honduran government fail to safeguard "vital and peaceful work" of land and environmental defenders.
In 2015, Rothko Chapel awarded the Oscar Romero Award to Ms. Miranda and the late Berta Cáceres, an indigenous rights activist and leader of the COPINH, the Civic Council of Popular and Indigenous Organizations of Honduras. She had been fighting the construction of a hydroelectric dam by the DESA Corporation on a river sacred to the Lenca people. Less than a year after that prize was announced, Ms. Caceres was assassinated in her home.
Although seven men, including a DESA manager and an active Honduran military officer, were convicted of the crime in 2018, there is serious doubt that the investigation into Ms. Caceres's murder has gone far enough in identifying all the people involved. Key evidence was not allowed into the 2018 trial. In 2018, Bertha Zúniga, Ms. Caceres's daughter, warned in America, "If impunity persists in this case, there will be further violence against human rights leaders in Honduras."
"It's the same thing, the same secrecy," Ms. Miranda told America, connecting Ms. Caceres's murder to the abductions in Triunfo de la Cruz. "It's what we have to dismantle."
The possible involvement of state security forces in the crime has created deep concern about the legitimacy of the investigation and its possible outcomes. The same police ordered to protect the community could now be behind the latest violent acts.
Ms. Lopez described an ongoing sense of fear and insecurity in the village. When those who abducted the men, wearing bulletproof vests and police uniforms, arrived in unmarked vehicles and began pounding on doors, surprised residents quickly realized what was happening. The community responded with a roadblock to try and stop the abductions, but they were shot at before three vehicles got away.
"They want us to be gone. This is not an isolated event but part of a plan to destroy Indigenous peoples," said Ms. Miranda. "But we deserve another destiny. Honduras deserves another destiny."
Ismael Moreno, S.J., the director of Radio Progreso in Honduras, called the disappearance of the men a "national wound."
During the press conference, he called for fellow Hondurans to defend the Garifuna and other oppressed groups threatened by "policies of exclusion and extermination" sponsored by the "extreme right-wing Honduran political sector led by [President] Juan Orlando Hernández."
The racialized violence targeting Garifuna, said Ms. Trinidad, has a collective impact on all Hondurans. "When they kill a fellow Garifuna, they're killing [all] our chances to move forward, to reach the goal we have of a different Honduras. To be able to live in this country and to live fully."