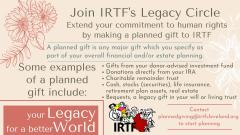 Advance a future of peace with justice. Leave your legacy for a better world.
Consider a planned gift to IRTF as part of your financial and estate planning. 
Here are some examples: 
-gifts from a donor-advised investment fund
-donations directly from your IRA*
-charitable remainder trust
-cash, stocks (securities), life insurance, retirement plan assets, real estate
-bequests, a legacy gift in your will, or living trust
Extend your commitment to human rights--and your commitment to IRTF--for decades to come.
Make a planned gift to IRTF today!
Contact: PlannedGiving@irtfcleveland.org or call (216) 961 0003.
IRTF is a 501(c)3 tax-exempt non-profit.  See IRTF's registration with the State of Ohio at https://businesssearch.ohiosos.gov/
IRTF respects your privacy. IRTF will not share your contact information.             
--------------------------------------                        
*Use your IRA to support IRTF!
As of January 2020, people aged 72 and older must take an RMD (required minimum distribution) from their IRA.
Donate to IRTF:     Contact your IRA manager. Instruct them to establish IRTF as a QCD (qualified charitable donation).
                                Designate an amount to be sent directly to IRTF.
  Tax-free:              The QCD (qualified charitable donation) is not taxable because it never really becomes income.
  Inherited an IRA?  If you are required to take an RMD from an IRA that you inherited, you can also establish IRTF as a QCD.