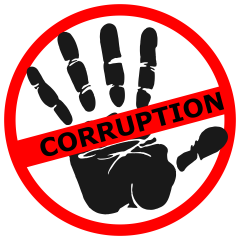 Wednesday, January 29, 2020
Honduras: Corruption from the Top
Treatment of protest
During the post-electoral protests in late 2017 and early 2018, nongovernmental groups reported over 30 dead, the majority of whom were protesters allegedly killed by members of the Military Police of Public Order. The United Nations High Commissioner for Human Rights office in Honduras investigated cases of at least 16 people allegedly killed by government security forces.
Two years later, only two security officers have been indicted for these killings, and none convicted. No new protocol for handling protests has been developed. The head of the Military Police during the crackdown was promoted to head of the armed forces' budget office. The role of the armed forces continues to expand, with new powers granted even for the army to play a role in agricultural development. Excessive use of force by security forces during protests continues. In a September 2019 hearing before the Inter-American Commission on Human Rights, Honduran human rights groups asserted that 9 people were killed in the context of protests in 2019 and that firearms and excessive use of tear gas were regularly employed by security forces in repressing protests.
Situation of LGBTQ+ Hondurans
LGBTQ+ Hondurans face frightening levels of violence. No fewer than 164 LGBTQ+ Hondurans were murdered from January 2014 – June 2019, with 27 killed in 2018 alone. In some cases attacks appear to be hate crimes motivated by the victim's gender and activism, as in the cases of the November 9, 2019 beating of LGBTQ+ activist Alejandra Vega Balenciaga in San Pedro Sula and the murder of trans woman Bessy Michelle Ferrara who was killed with 8 shots on July 8, 2019 in Comayaguela. Notably, assaults against LGBTQ+ persons increase during July, Pride month.
Recommendations for U.S. Policy
For Guatemala, the State Department and U.S. Embassy should:
· immediately issue public statements of support for human rights ombudsman Jordan Rodas and urge the release of the office's budget;
· increase public statements, social media, and actions in support of Guatemala's human rights defenders, stressing concerns about the widespread criminalization of human rights defenders as well as threats and attacks;
· express concerns regarding restrictions on nongovernmental organizations and journalists; and
· encourage strengthening, not weakening, of the Public Prosecutor's Human Rights Unit and the Prosecutor's Office against Impunity (FECI).
For Honduras, the State Department and the U.S. Embassy should:
· immediately insist that the President of Honduras agree to a four-year renewal of MACCIH's term with the same mandate as it currently has;
· end public expressions of support for President Hernández and his administration to send clear signal that corruption, drug trafficking, and repression are not tolerated; 7
· increase public statements, social media, and actions in support of Honduran human rights defenders, stressing concerns about criminalization of Honduran human rights defenders, including the Guapinol community leaders; push for effective prosecution of the intellectual authors of Berta Cáceres' murder;
· urge effective prosecutions of the security forces involved in the killings of protesters, an end to the use of the armed forces and Military Police in responding to protest, and the development and use of an appropriate protocol in protest situations for the civilian police. The embassy should also make strong public statements when abuses against protesters take place; and
· express concerns regarding restrictions on nongovernmental organizations and journalists and monitor application of the penal code.
For both countries, the U.S. State Department should:
· release aid to civil society and accountable local governments for violence prevention, poverty reduction, opportunities for youth at risk, women's and LGBTQ+ rights, anti-corruption efforts and human rights initiatives, while withholding all military assistance.
In addition, the Congress should:
· make public statements immediately urging renewal of MACCIH's term in Honduras with the same mandate;
· carry out vigorous oversight of safe third country agreements with Guatemala, Honduras, and El Salvador, and discourage the administration from advancing with these plans;
· through letters, statements, and social media, express support for the human rights defenders at risk in Guatemala and Honduras; and
· urge the State Department to carry out the above recommendations.
By: Lisa Haugaard, Co-director, Latin America Working Group Education Fund (LAWGEF), lisah@lawg.org
Source: https://www.lawg.org/making-way-for-corruption-in-guatemala-and-honduras/