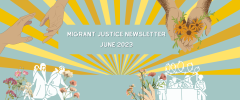 Migrant Justice Newsletter and Urgent Actions – JUNE 2023
by IRTF staff and interns
In the Cleveland immigration court in May 2023, nationals of Venezuela ranked #1 of all new deportation cases filed by the Department of Homeland Security against Latin Americans.  Since the beginning of Fiscal Year 2022, the number of Venezuelans has been right up there with Guatemalans, Hondurans, and Mexicans.  So what is driving so many Venezuelans to Ohio?
In this month's Migrant Justice Newsletter, please read about: 1-Immigration Court in Cleveland, OH, 2-ICE Air: Update on Removal Flight Trends, 3-Cruelty at the Border Is Not Success, 4-At the Border: Recent Incidents at and around the US-Mexico Border, 5-Halfway to the US: A Report on Migration from Honduras, 6-Venezuelans: How US Sanctions Are Driving Migration North to the US, 7-Asylum in Limbo – a book review. Then see our TAKE ACTION items: A) Follow the Biden Deportations Tracker, B) Tell Senator Sherrod Brown to take his name off Sen. Kyrsten Sinema's anti-asylum bill!, C) Urge Your Congressperson to Support the American Families United Act (now called Dignity Act), and D) Restoring Asylum and Dignity for Immigrants – webinar July 12, 7-8pm EDT.
Even though Title 42 ended on May 11, removal flights to El Salvador and Honduras increased in May. And in Cleveland's immigration court (EOIR), new deportation cases filed in May were up 1200 over the previous month, due mainly to the government filing cases against 1278 migrants from Mauritania and another 888 against migrants from Uzbekistan. The top nationalities (from Latin America/Caribbean) with new deportation proceedings filed in Cleveland in May: Venezuela (450), Mexico (278), Colombia (209), Guatemala (195), Haiti (160), Honduras (159), Peru (135), Nicaragua (77), El Salvador (47).
Customs and Border Patrol (CBP) has issued a statement about the death of 8-year-old Anadith Tanay Reyes Álvarez at the Harlingen (TX) Border Patrol Station on May 17 (which we reported in the May 2023 Migrant Justice Newsletter). CBP reports that contracted medical personnel did not consult with on-call physicians (including an on-call pediatrician) about the girl's condition, symptoms, or treatment. The contracted medical personnel also failed to document numerous medical encounters, emergency antipyretic interventions, and administrations of medicine. Ana's parents had provided to Border Patrol documents showing their daughter's heart condition and sickle cell anemia.
"Nationalist movements rely on immigration systems that minimize the number of nonwhite immigrants they welcome." This quote is from   , Andrea R. Flores (@Arosaflores), a Washington, D.C.-based policy expert and lawyer who has served as an immigration policy advisor at the Department of Homeland Security, the White House, and the US Senate. In this month's newsletter, we include a review of her book Asylum in Limbo. Flores argues that when Title 42 finally expired on May 11, 2023, the Department of Homeland Security (DHS) should have promptly returned to processing migrants under existing immigration laws. But the president who campaigned to end Title 42 did something else.  On May 11, President Biden implemented his own ban on asylum seekers at the US–Mexico border. With a striking similarity to Trump's asylum ban, nearly all migrants who fail to seek asylum in another country first or secure an appointment to enter at a land port of entry will be presumed ineligible for asylum when they reach US territory. The rule effectively normalizes the dangerous theory that, because certain migrants are at once less deserving of humanitarian protection than others and more threatening to the social cohesion of our democracy, the US can dispense with its legal obligations under the Refugee Act of 1980 to individually review every asylum case.
Says Flores: "We have seen in the past three years how easily racial preferences can be used to decide who we allow to seek refuge—even if it means designing new legal pathways for them—and who we turn away."
Read IRTF's June 2023 Migrant Justice Newsletter at: https://www.irtfcleveland.org/blog/migrant-justice-newsletter-june-2023