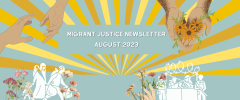 Wednesday, August 23, 2023
Migrant Justice Newsletter and Urgent Actions – AUG 2023
(You can read this monthly newsletter at https://www.irtfcleveland.org/blog)
Welcome to IRTF's August 2023 newsletter on Migrant Justice and the current situation at the US-Mexico border! After you've looked through the articles, we hope you can take a few minutes to see the TAKE ACTION items at the bottom.
In this newsletter, please read about 
1.    Immigration Court in Cleveland, OH
2.    ICE Air: Update on Removal Flight Trends 
3.    Biden's Asylum Restrictions May Remain in Place, Federal Court Appeals Rules  
4.    Shocking Conditions in ICE detention centers
5.    DHS announces new family reunification process for nationals of Colombia, Cuba, El Salvador, Guatemala, Haiti, Honduras
6.    At the Border: Recent Incidents at and around the US-Mexico Border 
7.    U.S. Immigration Courts–the Face of Institutionalized Racism
TAKE ACTION NOW
Here is what you can do to take action this week and act in solidarity with migrants and their families. (See details at the bottom of this newsletter.)
A) Stop Border Militarization 
B) TPS for Mauritanians, not Deportation
C) Support the New Way Forward Act for DREAMers
D) Support the Protect Vulnerable Immigrant Youth Act
E) Tell Congress to Cease Hostility toward Venezuela
F) Urge the Biden Administration and Congress To Choose Welcome Over Harsh Policies!
(You can read this monthly newsletter at https://www.irtfcleveland.org/blog)