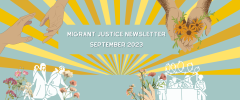 Saturday, September 30, 2023
Welcome to IRTF's September 2023 newsletter on Migrant Justice and the current situation at the US-Mexico border! After you've looked through the articles, we hope you can take a few minutes to see the TAKE ACTION items at the bottom.
In this newsletter, please read about 
1.    Immigration Court in Cleveland, OH
2.    ICE Air: Update on Removal Flight Trends
3.   Increase in Migrant Presence at the US-Mexico Border
4.   US-Mexico Border: "deadliest land route for migrants worldwide" 
5. Temporary Protected Status (TPS) updates 
6.  At the Border: Recent Incidents at and around the US-Mexico Border 
TAKE ACTION NOW
Here is what you can do to take action this week and act in solidarity with migrants and their families. (See details at the bottom of this newsletter.)
A) Request for Reuniting Families Act
B) Home Is Here: Support DACA 
C) Defund Hate
D) Stop New Forms of Family Detention
E)  Root Causes of Migration:  Sanctions hurt people!
F) Root Causes of Migration: Stop the Gun Running to Haiti
G) Root Causes of Migration: Stop the persecution of Afro-Indigenous Hondurans!
(You can read this monthly newsletter at https://www.irtfcleveland.org/blog)