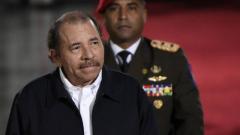 Thursday, January 17, 2019
by Jude Webber, for Financial Times
Under threat of international isolation, hurt by the loss of an ally and reeling from last year's protests, Nicaragua's veteran rebel leader Daniel Ortega is facing the biggest challenge to his four decades in politics.
Nine months after violent opposition to Mr Ortega's government erupted, regional unease at his repressive response has left Nicaragua at risk of expulsion from the Americas' most important diplomatic body — which would sever the impoverished country's access to vital multilateral loans. President Donald Trump has also opened the door to US sanctions against Nicaraguan officials.
Nicaraguan foreign minister Denis Moncada will on Thursday visit Mexico, which has responded to Managua's overtures and offered to mediate in the crisis.
While last year's protests against social security reform have died down, tensions remain high as the Ortega regime tries to quell dissent. International human rights investigators have been expelled and media outlets searched.
The Nicaraguan government has said it will resist "coup-mongering" efforts to eject Mr Ortega from power before his third consecutive term in office ends in 2021.
In an interview by telephone from Nicaragua, Mr Moncada told the FT he had written to his Mexican counterpart Marcelo Ebrard "requesting help".
Mr Moncada accused Mr Ortega's opponents of acting as if the government "were the Somoza dictatorship," referring to the battle to oust Anastasio Somoza, who ruled for more than 30 years until Mr Ortega helped topple him in 1979. "They are trying to asphyxiate Nicaragua." Mr Ortega long allied himself with the business community but corporate leaders broke with him last year over the crackdown on protests.
Maximiliano Reyes, the Latin America undersecretary in the new Mexican government of President Andrés Manuel López Obrador, said during a confirmation hearing this week that the country was "willing to participate, at Nicaragua's invitation, in any mechanism to facilitate and mediate dialogue".
No formal mediation mechanism has yet been set up but the López Obrador administration has also offered itself as "a bridge of dialogue" in Venezuela, where President Nicolás Maduro has begun a widely repudiated second term with the country in meltdown.
Any mediation in Nicaragua will be difficult. Efforts by the Catholic Church to broker talks between students, business leaders and other protesters on the one side, and the government on the other, swiftly collapsed year.
Notwithstanding Mexico's offer of trying to help resolve Nicaragua's crisis, Mr Ortega — a former revolutionary— looks increasingly lonely at the start of 2019.
The Organisation of American States has begun proceedings to apply its so-called diplomatic charter against Nicaragua — a move members can take if the democratic order in a country is deemed to have broken down, and which the OAS has also set in motion against Venezuela. That would cut off access to multilateral loans.
In last year's protests, at least 325 people died and more than 500 were jailed, according to the Inter-American Commission on Human Rights (IACHR). Mr Moncada in December expelled teams from the IACHR and the OAS, accusing them of meddling in internal affairs, bias and peddling false information to encourage the application of sanctions.
"Things are normal, our institutions are working. There is no policy of repression as they want you to believe," Mr Moncada said.
Nevertheless, police last month raided the office of news magazine Confidencial in what its editor, Carlos Fernando Chamorro, called "an attack on freedom of expression". Just before Christmas, Miguel Mora, head of television channel 100% Noticias, was arrested and accused of "fomenting and inciting hatred and violence".
"The people of Nicaragua are suffering one of the most serious human rights crises the region has seen in the last decades," Luis Almagro, OAS secretary-general tweeted as representatives met to discuss the situation on January 11. "It is clear that today in Nicaragua, there is NO rule of law, the use of force is disproportionate, there is repression, there are political prisoners, political pluralism has been snuffed out." Recommended The Big Read Jude Webber Nicaragua: Daniel Ortega's last stand
The coming weeks will be crucial for the Ortega regime. The next step is for the OAS to vote to expel Nicaragua. No date has been set. But Mr Moncada said he did not believe the organisation could muster the necessary votes for what he branded an "illegal" move and a US-led conspiracy.
Mr Trump last month finally signed the Nica Act into law, which would allow sanctions to be imposed on Nicaraguan officials. The US could also place conditions on multilateral loans on which the economy — which Funides, a think-tank, estimated in October could contract by as much as 8.7 per cent in 2019, after a 4 per cent fall in 2018 — relies heavily.
While such international pressure was expected, last week's resignation of Supreme Court judge Rafael Solís, for years a close ally of the president, came out of the blue.
"I always believed that sense and reason would prevail in you and lead to a political negotiation that would allow for early elections," he wrote to Mr Ortega in his resignation letter, in which he slammed a "state of terror" imposed by "a dictatorship with the characteristics of an absolute monarchy . . . that has made all powers of the state disappear." He added: "The prospect of a new civil war in the country, which no one wants, is now closer than ever."