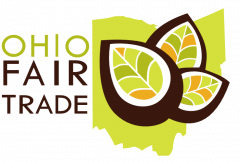 Wednesday, August 24, 2022
We invite community partners to offer support as a co-sponsors of the annual Ohio Fair Trade Teach-In & Expo 2022.  This in-person event at John Carroll University (with COVID safety protocols) is expected to bring together hundreds of fair trade supporters, advocates, retailers, and vendors from across the state.  The Expo will be an opportunity to continue building energy around the already vibrant Ohio fair trade movement and previous Expos.  In addition to the Global Marketplace of fair trade vendors, we'll host educational presentations and panels, including a special track for high school students and a passport program for kids.  
WHAT:     Ohio Fair Trade Teach-In & Expo 2022
WHERE:  John Carroll University, Dolan Science Center; University Heights (Cleveland), OH
WHEN:    Saturday, October 8, 2022
TIME:      9am-2pm (attendees are welcome to come and go)
Note: If this event becomes 100% virtual, we will let co-sponsors and others know as soon as we know.
Goals of the Expo & Teach-In:           
-Present high quality educational forums to increase attendees' understanding of fair trade
-Provide resources and active campaigns for fair trade supporters to join
-Create a larger network of socially conscious consumers committed to Fair Trade
-Offer opportunities for networking amongst vendors, advocates, and supporters from across Ohio
Event Organizers:
IRTF: InterReligious Task Force on Central America
John Carroll University Campus Ministry
on behalf of the Ohio Fair Trade Network
Co-Sponsors (list in formation)
Co-Sponsorship Levels:
Goodie Bag Co-Sponsor - $1,000
Includes recognition on website, event program, slide show, and fair trade goodie bag
Presenting Co-Sponsor - $500
Includes recognition on website, print materials, event program, prominent on slide show
Market Co-Sponsor - $250
Recognition on website, print materials, event program, slide show
General Co-Sponsor - $100
Recognition on website, print materials, event program, small logo on slide show
Supporting Co-Sponsor -  $50
Recognition on website and event program
To be listed as a co-sponsor of this event:
Please contact IRTF, the fiscal sponsor of the Ohio Fair Trade Network, at (216) 961 0003 or OhioFairTrade@irtfcleveland.org
Payment:
Online: Click the button "TICKETS" here and scroll down to co-sponsorship levels.
By check: To avoid online fees, mail a check to IRTF, 3606 Bridge Ave, Cleveland OH 44113
Thank you in advance.
--------------------------------------------------------------
Here is some additional info about the Expo:
 
Please help us promote the Ohio Fair Trade Teach-In and Expo on Saturday, Oct. 8, 2022. Attendees are welcome to come and go anytime between 9 am and 2 pm.
The Ohio Fair Trade Network, together with John Carroll University, is hosting the 2022 Ohio Fair Trade Teach-In and Expo! Join us for one of the largest regional fair trade events in the country. The Ohio Fair Trade Teach-In & Expo is a place for people of all ages, with educational opportunities and panels, activities for children, and the Global Fair Trade Marketplace. The theme for this year is Environmental Sustainability: Care for Our Earth, one of the nine principles of fair trade!
Our guest speaker is Brenna Davis from the Ignatian Solidarity Network. Other panel guests will highlight these and other principles of fair trade, inviting all of us to play our part in promoting social, economic, and environmental justice. Let's embrace fair trade as environmentally sustainable global trade.
The Global Fair Trade Marketplace will feature multiple vendors for you to shop for handcrafted jewelry, clothing and home decor items, as well as fair trade coffee, tea, chocolate and more!
Register to get your tickets (free, or free-will donation) at https://2022OhioFairTradeExpo.eventbrite.com
We have an exciting schedule this year:
        10am: Interconnected: Fair Trade, Sustainability, and Care for Creation
Presenter: Brenna Davis, Director of Environmental Initiatives at the Ignatian Solidarity Network.
In this session, learn about the interconnections between fair wages, environmental sustainability, and the call to care for creation. When we support one of these issues, because they are intertwined, we support them all. We will engage in dialogue and action planning on how to show the interconnection between justice issues in our own communities.
11am: Fair Trade 101 (presenter to be announced)
We hear so much about ethically sourced, fairly sourced, organic, direct trade, earth-friendly. What does all this mean? Learn what is and isn't fair trade. Fair trade is a specific set of principles to which fair trade producers and distributors commit. These principles build the health of local communities beyond better wages and working conditions. Fair trade empowers artisans and farmers to have ownership of their businesses and use the proceeds to improve their housing, schools, health clinics, gender equity, and more. Learn about the fair trade certification process and Alternative Trade Organizations (ATOs) that practice fair trade.
12pm: Students and Sustainability: Envisioning and Enacting a Fair and Sustainable Future
This year's expo will involve a special emphasis on opportunities for area youth to promote and support fair trade and sustainability. Some area students will be invited to address those gathered about their own communities' efforts, sharing the achievements and challenges they have experienced in their work for economic and environmental justice. We will also provide a time and space for students to network, dialogue, share best practices, and set goals with other students and the Ohio Fair Trade Network.
Global Fair Trade Marketplace
We are pleased to announce that these fair trade vendors are scheduled to be with us on Saturday, October 8 (list in formation):
Amani Beads
Artesanías Santo Domingo
Canaan Palestine
Esperanza Threads
Friends of the Third World
GlobalTiesAkron
INTO
IRTF: InterReligious Task Force on Central America and Colombia
Joyce's Boutique and Hair Salon
Market Path
NoonDay Collection
One World Shop
Revy Fair Trade
Shema Global
Silk Road Market
Storehouse Tea
Women of the Cloud Forest
World Peaces
and community partners will have info tables, including Catholic Relief Services and the Collaborative to End Human Trafficking
Kids' Activities
New this year will be a 15-20 minute interactive session with kids (repeated throughout the day) designed so they can have fun while learning about fair trade. All will be invited to make their own fair trade button.  And kids aged 6-12 who have their fair trade passport stamped by all the vendors will be entered into the kiddie raffle.
Food Vendor
We are pleased to welcome Amigas, a group associated with the Immigrant Worker Project in Stark, Tuscarawas and surrounding counties. They will sell some of their handcrafts and lunch.
Complimentary Refreshments
by Equal Exchange, staffed by sales reps from their warehouse in Bedford, OH.  Complimentary chocolate, tea, and coffee.
Goodie Bags
The first 200 attendees will receive a sturdy canvas bag with the Ohio Fair Trade logo, sourced from Enviro-Tote. And look inside for your fair trade goodies!
Location
Dolan Science Center at John Carroll University, 1 John Carroll Blvd, University Heights, OH 44118
More about the event:
https://2022OhioFairTradeExpo.eventbrite.com