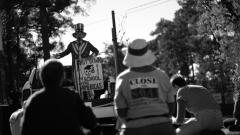 Saturday, November 19, 2016
No arrests with sparse crowd at SOA Watch protest
SOA Watch activists vow to keep their hands on the plow 
With an American flag blowing in the wind and dozens of small white crosses scattered on the ground, a small group of School of Americas Watch protesters held a peaceful vigil Saturday outside the gates of Fort Benning.
The protest attracted 33 supporters to Stone Gate on Fort Benning Road for its 26th anniversary, calling for the closing of the Western Hemisphere Institute for Security Cooperation, formerly called the School of the Americas. Although much smaller than years past, organizers said the scaled-back event still had a message.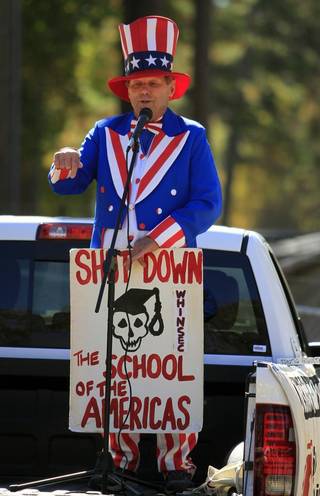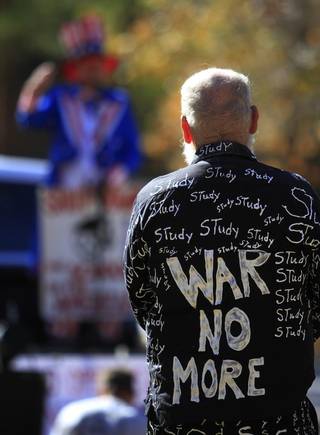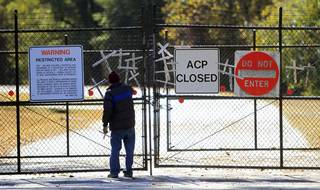 "I feel really good about holding this space, having this space and to continue 26 years of struggle," said Hendrik Voss, national organizer for the Washington-based group. "SOA has branched out to address a lot of issues of militarization."
The protest in Columbus came six weeks after the group shifted it focus to the U.S. border patrol near Nogales, Mexico, to call attention to immigration and demand the closure of all checkpoints throughout the nation. Since 1990, protesters have gathered at the Benning Road gates to remember the 1989 massacre in El Salvador that left six Jesuit priests, their housekeeper and her 16-year-old daughter dead. Some of the soldiers linked to the slayings were trained at the School of the Americas, which operated on post from 1984 to December 2000 before closing. The institute opened with its current name in January 2001.
Father Roy Bourgeois, founder of SOA Watch and dressed in a colorful Uncle Sam suit, said the vigil is a time to come together with solidarity and to remember people. "It's a connection once again to the school here," he said. "Whatever name it is under, it still contributes to oppression."
Despite a few in the group, Bourgeois said there are a lot of memories at Stone Gate. "We started with 10 and the movement changes but we are not going away," he said. "We are going to keep our hands on the plow like Dr. (Martin Luther) King said. "
Bourgeois said SOA will return to the border of Mexico and he expects new supporters with President-elect Donald Trump. "With the new president, he is going to come down hard on the immigrants," he said. "We are very concerned but what I feel hopeful about is this has energized a whole new group of activists coming on board. I've seen that already. I went down for the count but I'm coming back. I realize this is going to bring more people in our movement."
The smaller protest attracted Robert Norman Chantal, who was dressed in a sad clown face when he was arrested in November 2014. He climbed the fence at Fort Benning to enter the post.
"I think today I come to show my face," said Chantal, 64, with his nose painted red and wearing a black suit with the words "Study War No More." "I don't think anybody seen me for a long time. I come to support what goes on here."
Chantal, also known as Nashua Chantal, wasn't sure if he could be at the protest. He agreed not to enter the post again when U.S. Magistrate Stephen Hyles placed him on five years probation.
"I'm in a gray area," he said standing about 50 feet from the fence. "Still, I'd rather be in a gray area and not too far from the line."
Just as the Bible talks about any place where two or three are gathered, Chantal said the movement is still strong with a few. "Even if it's just one of us here to represent, we are all scattered throughout the nation," he said. "We just have to be strong and continue forward and listen to all the organizers who put so much of their time. We have to stand with them and give our support."
Barbara Joye , 74, of Atlanta said she hasn't missed many of the protests. She has been there with crowds over 15,000 and the smaller group on Saturday. She said the crowds fizzled off after the Sept. 11, 2001 terrorist attacks. "I think people also are distracted by other things in the Middle East, many other issues and the immigration stuff," she said. "We used to have bus loads coming from Atlanta."
Brian Stefan-Szittai of the InterReligious Task Force on Central America and Colombia in Cleveland, Ohio, rented a van with SOA Watch supporters who stopped at detention centers in Cleveland and Louisville, Ky., where immigrants are held. The group was received well until a woman tooted pro President Trump out of her car window.
Stefan-Szittai said the group called attention to immigrants separated from their families. As a supporter of the SOA over the last 20 years, he was sad about the smaller crowd.
"It makes me sad but also at the same time the crowd in any movement that's been able to last more than 20 years and have people come to speak out for peace and justice and call to end violence, it is I think pretty dynamic," he said. "That is a long time to sustain it. The movement is stronger than members who actually show up."
Just before 3 p.m., the members of the group gathered in a circle to remember those who have died before placing a white cross on the fence. Voss said the group would travel to Lumpkin, Ga., and march from the town square to the Stewart Detention Center where immigrants are housed for deportation proceedings. No arrests were anticipated with the small group, he said.