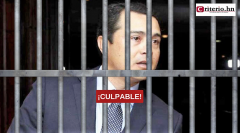 Wednesday, October 23, 2019
A New York court has found Tony Hernandez - brother of Honduran president Juan Orlando Hernandez, former member of Honduran Congress - guilty today on four drug-trafficking related charges: conspiring to traffic cocaine into the U.S.; conspiring to traffic drugs using machine guns; using machine guns to traffic; and lying to federal agents.
The verdict against Hernandez was delivered by a jury in federal court in Manhattan. Hernandez is scheduled to be sentenced on January 17, 2019, and faces up to life in prison.
 
Hernandez was arrested in Miami in 2018 and charged with drug trafficking and possessing illegal weapons.  U.S. prosecutors accused him of helping smuggle almost 200,000 kilograms (220 tons) of cocaine into the U.S. while enjoying the protection of President Juan Orlando Hernandez, his brother, who was not indicted but is considered a co-conspirator.
 
'Tony' Hernandez and "associates infiltrated the Honduran government and controlled it. 
They used the government against its own people. 
They used it for State-sponsored drug trafficking."
(U.S. assistant attorney Emil Bove)
 
Homework in the U.S. and Canada
Please have your Members of Congress, Parliament and both Senates write out, 100 times:
 
"I now understand that the repressive, anti-democratic, corrupt, drug-trafficking regime of Honduras was brought to power during the U.S. and Canadian-backed military coup in 2009.
I understand that this regime has been fully supported politically, economically and militarily since 2009 by the U.S. and Canada – Republicans and Democrats, Liberals and Conservatives - , by the European community, World Bank, Inter-American Development Bank and IMF, and by a host of global corporations and investment firms.
I understand that the U.S., Canada and this 'international community' have directly and indirectly enabled the corruption, repression and organized crime activity of the past 10 years of Honduran governments.
I commit my office to pushing for full political and legal investigations into the possible complicity of the U.S. and Canadian governments - including our embassies -, and our companies and investment firms operating in Honduras.
I am now beginning to understanding why 10s of 1000s, and sometimes 100s of 1000s of Hondurans are forced to flee home and country, every year."
 
*** / ***
 
There is a lot more to come of this important ruling, and possible future endictments and trials against other drug traffickers in the Honduran government, military, police and judiciary.  Stay tuned.
 
More information
Simcoe County Honduras Rights Monitor:https://simcoecountyhondurasrightsmonitor.wordpress.com