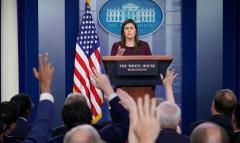 Tuesday, October 15, 2019
Outgoing Department of Homeland Security head Kevin McAleenan plans to announce during a trip to Central America this week the reinstatement of foreign aid that President Trump previously demanded be withheld, according to government documents obtained by the Washington Examiner.
McAleenan, the acting secretary of DHS, is slated to formally announce the United States is reinstating roughly $150 million in aid to El Salvador, Guatemala, and Honduras.
The forthcoming aid is primarily through Defense and State Department programs that support newly signed agreements McAleenan has recently entered with leaders from each of the three countries. The deals focus on addressing surges in recent years in the number of people from countries other than Mexico arriving at the southern border, as well as the underlying causes prompting hundreds of thousands to leave since last October.
Trump has already approved the reinstatement of aid. The State Department was informed of the decision Tuesday afternoon. McAleenan is expected to announce it while in El Salvador on Thursday.
Trump first threatened in March to cut off foreign aid to the Northern Triangle countries on the basis they were not doing enough to prevent people from fleeing and traveling in large "caravan" groups through Mexico to the U.S.
In February, arrests of illegal border crossings, which includes asylum seekers, hit 66,000. That figure climbed to 132,000 in May. Around 420,000 of the 850,000 people who illegally crossed the U.S.-Mexico border in fiscal year 2019 arrived as part of families fleeing those three countries — more than any previous year. Many are fleeing due to violence, gangs, and poverty.
The State Department formally announced in June a portion of aid allocated in the fiscal 2017 budget — $185 million — would be cut off, but the other $432 million would be disbursed. The $370 million planned for fiscal year 2018 was also suspended, for a total of approximately $555 million in lost aid.
State spokeswoman Morgan Ortagus said the aid would restart when the Trump administration had seen "concrete actions to reduce the number of illegal migrants coming to the U.S. border."
McAleenan, then the commissioner of DHS agency U.S. Customs and Border Protection, said in June 2018 that addressing the "push" factors causing more people than is historically normal to flee those countries was his primary focus. He has completed a number of trips to Central America since early 2017, leading to these new partnerships with El Salvador, Guatemala, and Honduras.
Border officials have also credited Trump's threat to impose tariffs on Mexico for triggering a long-term law enforcement and military response to arrest and deport migrants found to be illegally in the country.
As of early October, the number of southern border arrests had dropped to 40,000 — pre-"border crisis" levels and on trend to conclude with annual levels comparable to those over the past five years.
The new $150 million in aid will go toward the implementation of the bilateral agreements and letters of intent to work together between DHS and foreign ministry offices struck over the summer. Exactly $50 million will go toward the United Nations High Commissioner for Refugees programs in two of the countries.
The reinstatement of some aid caps off McAleenan's six months as acting secretary. Trump said Friday that the 48-year-old lawyer will step down.
The U.S. in July signed a "safe third country" agreement with Guatemala signaling intentions to become a final destination for asylum seekers and those who have passed through and not stopped there would be ineligible to apply in the U.S.
Salvadoran and U.S. officials signed an agreement in late September that formally confirmed a partnership to work together on migration and root causes, but is only a step toward the Guatemalan deal. The U.S. has entered similar deals with Honduran officials.
Source: https://www.washingtonexaminer.com/news/trump-reinstating-150m-in-aid-to-central-america