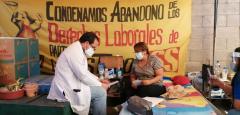 Image courtesy of Juan de la Cruz
Thanks to Diario Co Latino for this news article.
Author: Dennis Argueta
Las graves complicaciones de salud y el no recibir respuesta por parte del Gobierno, llevó a una de las
mujeres trabajadoras de la Industria Florenzi, que llevan ya 55 días de huelga de hambre, a levantar su
protesta.
Entre las complicaciones que presentaba estaban los mareos, presión alta, retención de líquidos, fiebre
y agotamiento.
La mujer era una de las tres trabajadoras que mantenía la huelga de hambre pero no soporto el
debilitamiento de su organismo al someterse a la huelga.
Por recomendación de doctores voluntarios y miembros de la Cruz Roja Salvadoreña que se mantienen
en constante vigilancia de las trabajadoras, para velar por su salud, la huelguista desistió de exigencia.
Sin embargo, el resto de mujeres trabajadoras aún mantienen la huelga y argumentan que seguirán la
lucha hasta que obtengan una respuesta favorable de su situación.
"Hoy se cumplen 55 días de huelga de hambre y podemos afirmar que el Estado Salvadoreño y la
institucionalidad que tanto se defiende ha fallado a la clase trabajadora, la constitución de la República
es utilizada a conveniencia del poder económico, se defiende a empresarios de maquila pero se
desampara a miles de obreros que producen riqueza en este país", agregó Rina Vargas, parte de la
Colectiva Florenzi.
Además, acusan al ministro de Trabajo, Rolando Castro, de tratar de dividir el colectivo y de haber
cancelado una reunión que él mismo había convocado el pasado 25 de febrero; sin embargo, el
funcionario no las recibió; las afectadas argumentan que miembros de la Policía Nacional Civil se
mostraron amenazantes al momento que se encontraban en las afueras del Ministerio de Trabajo
esperando la reunión con Castro.
"El 25 de febrero el mismo ministro de Trabajo canceló la reunión convocada por el mismo,
cerrándonos las puertas del Ministerio, y trató de intimidarnos con policías, tomaron fotografías",
detalló Vargas.
El 1 de julio de 2020 fueron despedidas más de 200 personas por parte de Industrias Florenzi, sin
recibir salarios ni aguinaldos o indemnizaciones; tiempo después, el personal de la fábrica se tomó las
instalaciones donde están las personas haciendo la huelga de hambre.