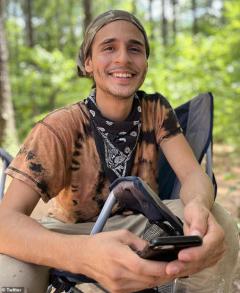 Wednesday, January 25, 2023
The killing of Tortuguita
by FOR-USA
In 2021, the Atlanta City Council authorized the leasing of 381 acres of the Weelaunee forest to build the largest police training facility in the US. The plans include military-grade training facilities, a mock city to practice urban warfare, dozens of shooting ranges, and a Black Hawk helicopter landing pad.
The predominantly Black, underserved local residents have dubbed the project "Cop City" and have overwhelmingly opposed it. Protests to stop "Cop City" have been ongoing since it was first announced.
Residents had hoped that the area--a canopy of trees that serve as a buffer against climate change--would be turned into a municipal park.
Last Wednesday, at the site of the protests, 26-year-old environmental activist Manuel Esteban Paez Terán was shot dead by an Georgia State Trooper inside his tent. Hearing about it from Panama City, Panama where she lives, Manuel's mother said: "they killed him … like they tear down trees in the forest – a forest Manuel loved with passion."
While unprecedented in the U.S., killings of environmental activists are commonplace in countries like Brazil, Honduras, and Nigeria.
May Manuel's memory spur us into action. In pursuit of that, Here are some ways to support the defense of the Weelaunee forest and the movement to stop Cop City:
Check out the 

Defend the Atlanta Forest Movement

 to learn more. They recommend the following ways that you can support the struggle:
Donate to the 

Atlanta Solidarity Fund

 to support legal costs for arrested protestors and ongoing legal action
Call on investors in the project to divest from Cop City (

list of APF investors

). Call on 

builders of the project

 to drop their construction contracts.

Organize political solidarity bail funds, forest defense funds, and forest defense committees where you live.

Participate in or organize local solidarity actions.

Endorse and circulate Defend the Atlanta Forset Movement's 

statement of solidarity

.
The truth is that Weelaunee forest doesn't belong to the city of to lease for Cop City but to the Muscogee nation. In 1790, a treaty was signed affirming the Muscogee (Creek) Tribe's land rights in the Alabama/Georgia region. Then, in the early 1800s, the U.S. set about its plan to remove all indigenous peoples from the area.
In 1825, the Indian Removal Bill was passed along with prohibitions against theme hunting and fishing and even being hired by white men. In 1836, over 15,000 Muscogee people were forced from their lands. More than one in four of them died on the Trail of Tears, to the Oklahoma reservation they were forced to relocate to.
As we struggle for indigenous rights, a safe and environmentally healthy planet to live on, the end to racist policing, and more, we remember Manuel and all who have been taken during protests. Manuel Esteban Paez Terán ¡PRESENTE!