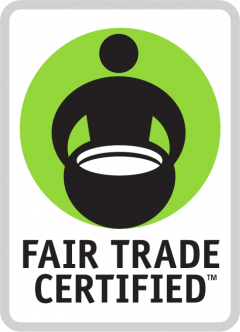 Friday, November 11, 2022
FAIR TRADE CAMPAIGNS Newsletter
Dear Friend,
Can you believe that we are already heading into the holiday season? Whether you're already listening to holiday tunes or refuse to get into the spirit until the last autumn leaf has fallen, we hope you're enjoying the crisp air and are finding pockets of joy in every day. 
We've got an exciting opportunity and some important highlights in this month's newsletter! Read on to learn how school and campus campaigners can receive free Fair Trade Finals goodies and to learn about Native American Heritage Month, the International Fair Trade Towns Conference, and our visit to a Fair Trade Certified flower farm, Florecal.
With gratitude,
The Fair Trade Campaigns Team
Fair Trade You Finals (It's Back!)
For the first time since before the pandemic, Fair Trade Campaigns' ever popular Fair Trade Finals program is back for our campus and school campaigns! Sign up by November 18th to receive a FREE Fair Trade Finals kit full of goodies from various Fair Trade Certified™ brand partners. Products and informational materials from the kit can be used for a finals week tabling event, a fair trade raffle, or other end of semester event to help raise the spirits of your community all while spreading awareness about fair trade. Resources on how to hold these kinds of events and more are available on the Sign Up link below.
Nativ American Haritage Month
Throughout November, many people look forward to food and family time during Thanksgiving. While the excitement and joy that comes with Thanksgiving is well placed, it's important to highlight the troubling origin of the holiday, as it was a time when colonizers slaughtered countless indigenous peoples and stole their land. This Native American Heritage Month, take time to celebrate and learn about the diverse history and culture of indigenous peoples all across North America. As you gather with your family and friends, you can also acknowledge and give thanks to the Native land that you call home by searching your address on Native Land Digital. 
Here are some of our favorite Instagram accounts that amplify Native voices and bring awareness to issues affecting Native people:
International Fair Trade Towns Conference
Last month, some of the Fair Trade Campaigns team had the honor of presenting at the 15th annual International Fair Trade Towns Conference. For the first time, the conference took place in Latin America, in Ecuador, which gave attendees a unique look into the lives of fair trade producers across the region and how we can better support them. Presenters from across the globe also spoke on various topics including fair trade at universities, fair trade and public policy, and so much more. The conference was a beautiful reminder that we are not alone in our advocacy and every small action we take is a step in the direction of a fairer world.
Fair Trade USA Partner Spotlight: Florecal
9,280 feet above sea level in the Ecuadorian Andes lies Florecal, a Fair Trade Certified flower farm and processing center. In the days before the conference, some of the Fair Trade Campaigns team had a chance to visit this incredible farm and visit with workers. Florecal sends high quality fair trade roses across the globe, all while making the most out of their Community Development Funds. Over the years, Florecal has used their funds on various projects including on-site health and dental facilities, a day care for the children of workers, continuing education programs, and a solar powered laundry drop-off facility. During the pandemic, Florecal was also able to keep all of their workers employed. This is a huge success while so many other flower farms in Latin America let workers go or reduced their pay to next to nothing or in some cases, nothing at all. Next time you're at Whole Foods, pick up a bunch of Florecal roses and know that you're supporting an organization with high standards for their products, people, and the planet.
Fair Trade Campaigns
http://action.fairtradecertified.org/