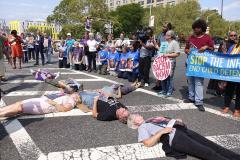 Thursday, September 5, 2019
Priests, nuns, lay Catholics and Newark Cardinal Joseph Tobin gathered outside an ICE office to protest the detention of migrant children and families.
Over 400 people participated in a Catholic protest outside an Immigration and Customs Enforcement office in New Jersey on Wednesday, calling for an end to the U.S. government's detention of migrant children and families.
Cardinal Joseph Tobin, Newark's archbishop, joined demonstrators outside the city's Peter Rodino Federal Building, blessing those who signed up to engage in nonviolent civil disobedience and leading the crowd in a recitation of the rosary.
About 50 people willing to risk arrest, including some religious sisters and priests, blocked traffic by occupying a public crosswalk, organizers said. Some formed the shape of the cross with their bodies as others recited prayers and sang. They held photos of children who have died in federal custody since 2018 and listened to narratives about the experiences of detained kids.
Tobin pointed to the Bible's calls to welcome the stranger and care for the prisoner. He called on Catholics to urge their representatives not to use families as "political pawns." 
"As a nation, we must come together for immigration reform which defends the family, protects human dignity, and enshrines the sacredness of life," Tobin said.  
Newark police ultimately issued summonses, or tickets, to six protesters. 
Jacqueline Small, a 26-year-old postulant with the Benedictine Sisters of Erie, Pennsylvania, was one of the six. She told HuffPost that while she was lying on the ground reciting the rosary, she meditated on the life of Jakelin Caal Maquin, a 7-year-old from Guatemala who died after being taken into U.S. Customs and Border Protection custody late last year. Small wore a photo of Maquin around her neck.
"I was praying that I'd be able to advocate for her and do the kind of good work she would have done for our country if she had been allowed to stay and allowed to live," Small said. 
Small said she hopes the presence of Catholic sisters at the demonstration will inspire those who share the faith to speak up.
"As Catholics, we're really called to be a lot like Mary," she said. "We're called to bring God into the world and use our own bodies to do it."
Read the full article here