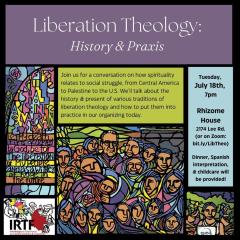 Liberation Theology: History and Praxis
On July 18, IRTF in coalition with the Autonomous University of Political Education held a discussion on the history and praxis of Liberation Theology. Through collective knowledge and wisdom sharing we gained insight into the role that theology has played in revolutionary struggles, from the forests of Central America to the olive groves of Palestine.
 After a presentation on context with key takeaways and common vocabulary, organizers from different anti-imperialist faith communities shared from their own lived experiences. Our friend Allie told us about anti-zionist activism with Jewish Voice for Peace (JVP). Chance from the Palestinian Youth Movement explained the relations between Islam, Christianity and the Palestinian Liberation struggle. He spoke on the importance of love, peace and solidarity, which makes up the core of Islam and cooperation with Christian and Jewish movements. To also get a deeper understanding of Liberation Theology from the Christian context, former IRTF coordinator Tony Vento talked about the decades he has been part of the fight for freedom, peace and equality within the Latin American solidarity movement. Our co-director Chrissy moderated the panel, and gave insight into their relationship with their Colombian culture and the role faith plays in their work. 
If you are interested in our discussion you can watch the recording, at https://drive.google.com/drive/folders/179_Uae3f3k-qqZYfWEZuIxhE0Q-aBfnf or listen to the audio version. 
We deeply enjoyed this get together, the exchange of ideas, and discussion between speakers and guests alike. We want to thank all our supporters and volunteers who made this possible and the friends and other guests who took part. Due to the overwhelmingly positive response to this event, we plan to host another session in September. Stay tuned for more information.