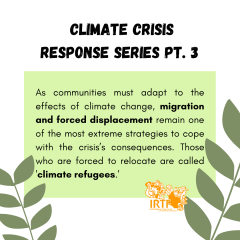 Friday, September 4, 2020

Written by Raphaella Mascia, summer 2020 intern
Edited in English by Quinlan Galvin
Edited in Spanish by Alisa Warshay
As communities adapt to the effects of climate change, migration and forced displacement remain one of the most extreme strategies to cope with the consequences of the crisis. Those who relocate, willingly or otherwise, are called 'climate refugees.'  Researchers have recognized the connection between the effects of climate change and migration in Central America since the late 1990's with extreme weather events linking climate change and migration[1]. Extreme weather events, including earthquakes and hurricanes, served as the initial evidence associating climate change and migration[3]. Hurricane Mitch, which swept through Central America in 1998 and caused emmigration from countries such as Honduras, Nicaragua, and El Salvador, precipitated further interest in the influence of climate change on emigration[1].  
A World Bank report predicts that 2 million people will be forcibly displaced from Central America due to the effects of climate change by 2050[4]. Moreover, while most migration discussed in the U.S. focuses on the immigration of people from Central America into the United States, internal migration will also likely be augmented by climate change; within Latin America, approximately 17 million people (2.6% of the region's population) could be compelled to internally migrate within the region[4]. The three most recognized impacts from climate change which drive migration are drought due to decreased precipitation, increased intensity and frequency of extreme weather events, and the worsening of pests and diseases affecting crops[2,7]. Within climate change discourse surrounding Central America, a dominant idea emerges around how exactly climate change causes emigration from Central America: the effects of climate change indirectly cause migration—effects such as drought and extreme weather compound other well-known reasons for migration including food scarcity, unemployment, violence, and poverty[2,7]. A United Nations report states the most noted reasons for emigration are insufficient access to food, drought, extreme weather, and disease which all contribute to decreased food supply[4]. 
Research suggests that most emigration from Central America will occur in the "Dry Corridor", an area spanning Southern Mexico to Panama which is projected to have decreased levels of precipitation due to climate change[2]. Three countries, El Salvador, Guatemala, and Honduras, are most frequently cited as the countries with increased rates of emigration due to a years-long drought worsened by climate change[1, 3,4]. Furthermore, these countries are heavily dependent on agriculture; this means that the region is even more vulnerable to factors such as drought and disease. For instance, coffee leaf rust, a disease caused by a species of fungus, has been ravaging coffee plantations in Central America crippling local economies[2,7]. Unfortunately,  none of these issues will be solved overnight, if ever. "Locked in" effects, a term widely used within climate discourse, refers to the effects of climate change which are unavoidable. The regions of Central America and Latin America are "locked in" to experiencing some degree of climate change's effects and thus also "locked in" to the indirect problems arising from these effects such as water and food scarcity[4]. Now the most important question becomes: what can be done to prevent the climate crisis from causing mass immigration as well? 
Although the idea of  "locked in" consequences surrounding climate change is widely acknowledged, researchers and scholars emphasize that "future trajectories of climate migration are not set in stone" and therefore, world leaders and policymakers wield the power to prevent the onset of a migration crisis [4]. One of the most critical steps in "solving" the issue of population displacement is to first recognize that climate refugees exist. Currently, international law does not acknowledge the term "climate refugee" as a valid status[5,6]. The foremost definition on the term "refugee", derived from the United Nations 1951 Convention and Protocol Relating to the Status of Refugees, only states that a refugee is a person who has fled the country of their nationality "owing to well founded fear of being persecuted for reasons of race, religion, nationality, membership of a particular social group or political opinion"[6]. In order to enact the necessary planning and strategies related to climate migration, many scholars and researchers affirm that climate refugees must be legally acknowledged so that governments and organizations can access much needed resources. 
Beyond the legal issues encompassing climate refugee recognition, a concerted effort must be undertaken to advance global and local climate crisis adaptive policy research and implementation. Furthermore, climate adaptation policies should adopt the tenets of socially-inclusive sustainable regional development and inclusive policies especially for those in the agricultural sector who will be severely impacted[1,4]. Governments all over the world can and must take action right now to reduce the amount of people forcibly displaced because of climate change[4]. According to a United Nation's Report, we, as a global community, still have a window of opportunity to establish policies and strategies to ameliorate both the issues leading to climate migration and the issues directly caused by climate migration[4]. And most simply put, we cannot miss it.

Escrito por Raphaella Mascia, pasante de verano 2020
Editado en Inglés por Quinlan Galvin
Editado en Español por Alisa Warshay
A medida que las comunidades se adaptan a los efectos del cambio climático, la migración y el desplazamiento forzado siguen siendo unas de las estrategias más extremas para hacer frente a las consecuencias de la crisis. Aquellos que se trasladan, voluntariamente o de otra manera, se llaman "refugiados climáticos". Investigadores han reconocido la conexión entre los efectos del cambio climático y migración en Centroamérica desde finales de los años noventa con fenómenos meteorológicos extremos que asocian el cambio climático y la migración[1]. Fenómenos meteorológicos extremos, como terremotos y huracanes, sirvieron como la evidencia inicial, vinculando el cambio climático y la migración[3]. El huracán Mitch, que ocurrió en Centroamérica en 1998 y causó la emigración de países como Honduras, Nicaragua y El Salvador, provocó un mayor interés en el impacto del cambio climático en la emigración[1].
Un informe del Banco Mundial predice que, para 2050, 2 millones de personas serán desplazadas de Centroamérica por la fuerza debido a los efectos del cambio climático[4]. Además, mientras que la mayoría de las migraciones discutidas en los Estados Unidos se centran en la inmigración de personas de Centroamérica a los Estados Unidos, es probable que la migración interna  también se vea aumentada por el cambio climático. En América Latina, aproximadamente 17 millones de personas (2.6% de la población de la región) podrían verse obligadas a migrar internamente dentro de la región[4]. Los tres impactos más reconocidos del cambio climático que impulsan la migración son la sequía debido a la disminución de las precipitaciones, el aumento de la intensidad y la frecuencia de los fenómenos meteorológicos extremos y el empeoramiento de las plagas y enfermedades que afectan a los cultivos[2,7]. Dentro del discurso sobre el cambio climático en torno a Centroamérica, surge una idea dominante en torno a precisamente de qué manera el cambio climático causa la migración de Centroamérica: los efectos del cambio climático causan la migración indirectamente--efectos como la sequía y el clima extremo agravan otros motivos de migración  bien conocidas, como la escasez de alimentos, el desempleo, la violencia y la pobreza[2,7]. Un informe de las Naciones Unidas afirma que las razones más reconocidas para la emigración son el acceso insuficiente a los alimentos, la sequía, el clima extremo y las enfermedades que contribuyen a la disminución del suministro de alimentos[4].
La investigación sugiere que la mayoría de la migración desde Centroamérica procederá del "Corredor Seco", un área que abarca desde el sur de México a Panamá que se proyecta tener niveles reducidos de precipitación debido al cambio climático[2]. Tres países, El Salvador, Guatemala y Honduras, son los más citados como los países con mayores tasas de emigración debido a una larga sequía agravada por el cambio climático[1, 3,4]. También, estos países dependen mucho de la agricultura; esto significa que la región es más vulnerable a factores como sequía y enfermedad. La roya, por ejemplo, es una enfermedad causada por una especie de hongo que ha estado devastando las plantaciones de café en Centroamérica y paralizando las economías locales[2,7]. Desafortunadamente, ninguno de estos problemas se pueden resolver de la noche a la mañana, si es que se los llega a resolver algún día. "Encerrado" es una palabra en el discurso del cambio climático que indica que algunos efectos del cambio climático son inevitables. Las regiones de Centroamérica y América Latina están "encerradas" en experimentar algún grado de los efectos del cambio climático y por lo tanto, también "encerradas" por los problemas indirectos derivados de estos efectos, como la escasez de agua y alimentos[4]. Ahora la pregunta más importante es: ¿qué se puede hacer para prevenir que la crisis climática cause también la inmigración masiva?
Aunque la idea de consecuencias "encerradas" del cambio climático es ampliamente reconocida, los investigadores y académicos enfatizan que "las trayectorias futuras de la migración climática no están escritas  en piedra" y, por lo tanto, los líderes mundiales y los legisladores tienen el poder de prevenir el inicio de una crisis migratoria[4]. El primer y uno de los pasos más críticos para "resolver" la cuestión del desplazamiento de la población es reconocer  que los refugiados climáticos existen. En este momento la ley internacional no reconoce el término refugiado climático como un estado válido[5,6]. La definición más importante sobre el término "refugiado", derivada de la Convención de las Naciones Unidas de 1951 y del Protocolo relacionado al Estatuto de los Refugiados, sólo establece que un refugiado es una persona que ha huido del país de su nacionalidad "debido al temor fundado de ser perseguido por motivos de raza, religión, nacionalidad, pertenencia a un grupo social o opinión política en particular"[6]. Para promulgar la planificación y las estrategias necesarias relacionadas con la migración climática, muchos académicos e investigadores afirman que hay que reconocer legalmente a los refugiados climáticos para que los gobiernos y las organizaciones puedan acceder a los recursos necesarios.
Más allá de las cuestiones jurídicas que abarcan el reconocimiento de los refugiados climáticos, se debe realizar un esfuerzo concertado para avanzar en la investigación y aplicación de políticas adaptativas a las crisis climáticas mundiales y locales. Es más, las políticas de adaptación climática deben adoptar los principios del desarrollo regional sostenible y socialmente incluyente y las políticas inclusivas, especialmente para aquellos en el sector de la agricultura que se verán gravemente afectados[1,4]. Los gobiernos en todo el mundo pueden y deben tomar medidas en este momento para reducir la cantidad de personas desplazadas por la fuerza debido al cambio climático[4]. Según un informe de las Naciones Unidas, nosotros, como una comunidad global, todavía tenemos una oportunidad para establecer las políticas y las estrategias para mejorar tanto los problemas que conducen a la migración climática como los problemas causados directamente por la migración climática[4]. Y en pocas palabras, no podemos perder la oportunidad.
References/Bibliografía
[1] Hallett, M. (2019, September 08). How climate change is driving emigration from Central America. Retrieved July 29, 2020, from https://www.pbs.org/newshour/world/how-climate-change-is-driving-emigration-from-central-america
[2]Gustin, G., & Henninger, M. (2019, July 13). Climate change is devastating Central America, driving migrants to the U.S. border. Retrieved July 29, 2020, from https://www.nbcnews.com/news/latino/central-america-drying-farmers-face-...
[3]Food Security and Emmigration: Why people flee and the impact on family members left behind in El Salvador, Guatemala and Honduras (2017). New York City, NY: United Nations Food Programme.
[4] Groundswell Preparing for Internal Climate Migration, Policy Note #3: Internal Climate Migration in Latin America (Rep.). (2018). Retrieved 2020, from World Bank Group website: http://documents1.worldbank.org/curated/en/983921522304806221/pdf/124724...
[5] "Climate change and disaster displacement." UNHCR: The UN Refugee Agency (USA) website.
[6] 1951. "Convention and Protocol Relating to the Status of Refugees." UNHCR: The UN Refugee Agency website. Accessed May 3, 2019. https://www.unhcr.org/en-us/3b66c2aa10
[7] NBCNews. (2019, September 20). How Climate Change Is Impacting Immigration From Central America [Youtube Video]. Retrieved from https://www.youtube.com/watch?v=WRgv4V1ZxN4.